Research Goals
Our goal is to understand the molecular mechanisms of neuronal development and regeneration, and to utilize gained knowledge in developing translational approaches for repairing injured central nervous system (CNS) circuits.

An image of immature retinal ganglion cell neuron from Dr. Trakhtenberg's research, adapted for a cover page of the International Review of Neurobiology volume on Axon Growth and Regeneration (Goldberg & Trakhtenberg, Eds, 2012, Vol 106: Academic Press).
NEWS
March, 2017
Dr. Trakhtenberg was selected by the New York Academy of Sciences and the Japan Agency for Medical Research and Development to participate at the Interstellar Initiative for "the world's most promising Early Career Investigators", where along with a collaborator, Dr. Kumiko Hayashi, they won First Place Award for a research solution proposal in the field of neuroscience.

April, 2017
Dr. Trakhtenberg was awarded a research grant by the BrightFocus Foundation under the National Glaucoma Research Program. The grant will fund a research project aimed at investigating novel gene therapy approach towards developing neuroregenerative treatments for restoring vision after angle-closure glaucoma and other types of optic neuropathies, which lead to complete or partial blindness. Optic neuropathies, such as those caused by angle-closure glaucoma result in blindness primarily because they disrupt axonal connections between the eye and the brain. These axonal connections originate in eye neurons called retinal ganglion cells, and run through the optic nerve to pass visual information into deep regions of the brain. When these neuronal connections are disrupted the eye cannot pass the information to the brain, resulting in blindness. The research project proposes to develop a novel method for regenerating disrupted axonal connections between the eye and the brain in order to reverse blindness caused by angle-closure glaucoma and other types of optic neuropathies.

June, 2017
Dr. Trakhtenberg (lead PI) and Dr. Crocker (co-PI) were awarded a seed grant by the Connecticut Institute for the Brain and Cognitive Sciences (IBaCS). The grant will fund an exploratory research project aimed at testing novel hypothesis regarding why axonal connections, through which neurons in the brain communicate with each other over long distances, do not regenerate after traumatic or stroke injury.

September, 2017
Dr. Trakhtenberg's awards and his lab were featured in UConnToday news.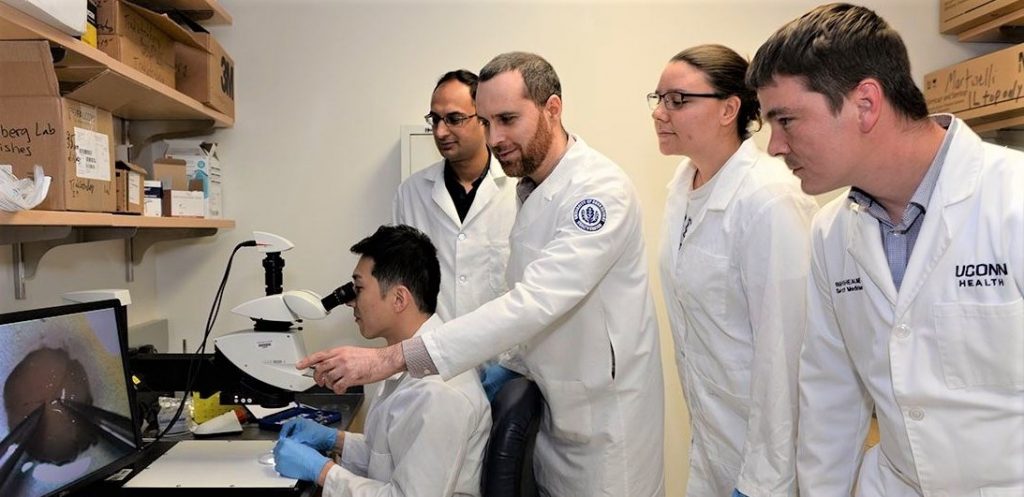 November, 2017
An MD-PhD student, Bruce Rheaume, presented a poster from the lab, "Axotomized adult retinal ganglion cells stimulated by extrinsic cues in a permissive environment survive and regenerate axons", at the international annual meeting of the Society for Neuroscience (SFN) in Washington, DC.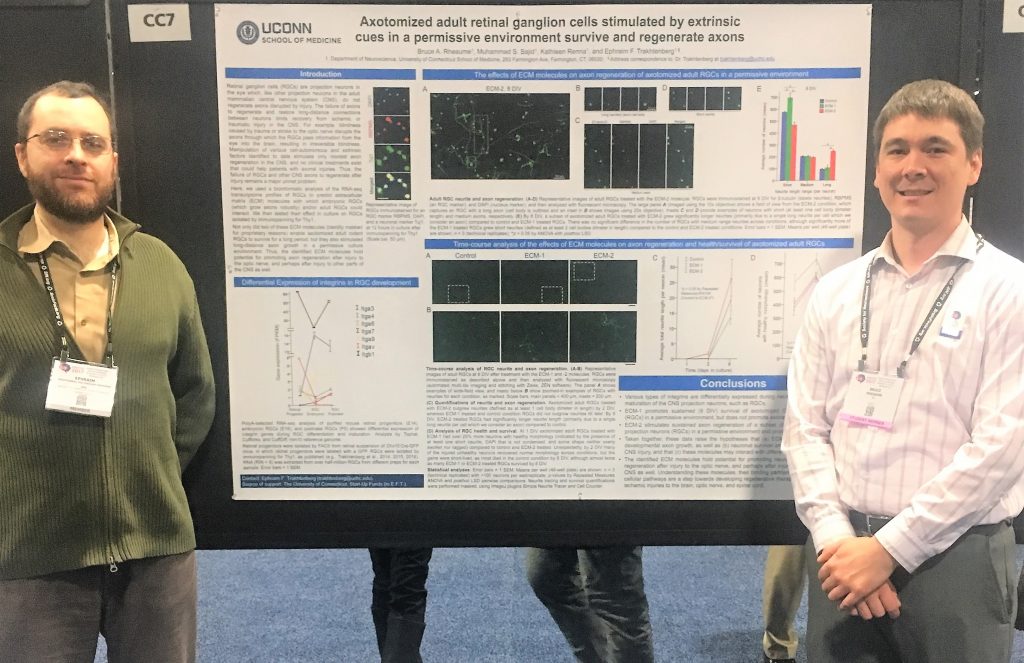 CURRENT OPENINGS
Postdoctoral Fellow
Graduate Rotation Student
Projects in the lab revolve around fundamental questions in neuronal development and regeneration in the CNS. We integrate cutting edge molecular, biochemical, genetic, bioinformatics, and translational approaches, which involve:
Histology and neuroanatomical analysis using confocal microscopy
Rodent CNS in vivo injury models and gene therapy
Neuronal cell culture and transfection
Next-generation sequencing and neuro-bioinformatics