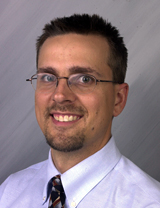 Principal Investigator
Assistant Professor of Pediatrics and Immunology
Email: amatson@connecticutchildrens.org
In recent years, the Matson Lab research focus has been on both the microbiome of premature infants specifically as it relates to the development of necrotizing enterocolitis (NEC), and on the development of allergy in full term infants.
Research
Necrotizing enterocolitis (NEC)
Necrotizing enterocolitis (NEC) is a devastating intestinal inflammatory disease that occurs primarily in premature infants. Although the pathogenesis of NEC remains incompletely understood, experimental evidence suggests that the disease develops after disruption of the intestinal barrier, which leads to translocation of bacteria into the deeper tissues and activation of resident immune cells. The Matson Lab is working toward a deeper understanding of the relationship between NEC and a child's microbiome—the bacterial ecosystem in the intestines, where NEC begins. The lab has identified populations of bacteria in the neonatal gut that are associated with the development of NEC, and is determining how these microbes work to disrupt the protective intestinal barrier. Their research is also determining how metabolic products produced by beneficial bacteria can optimize intestinal health and prevent this catastrophic disease of prematurity.
Allergies
Allergies have become an increasingly prevalent health problem in America. Research performed in the Matson lab is aimed at characterizing ways in which mothers can influence the development of allergies in their children by determining how immune factors crossing the placenta can promote the development of allergies in children. We have identified a mechanism for IgE, an antibody that is commonly associated with allergies, to transfer across the placenta and bind to fetal cells involved in an allergic response. This process may contribute to the finding that mothers with allergies are more likely to have infants that develop allergies after birth. When we better understand the immunologic relationship between the mother and child and more clearly define factors that influence the development of allergies early in life, therapeutic interventions may be designed to prevent the initiation of allergic disease in childhood.
Research Team
Adam Matson, M.D., M.S.
Katrin Unterhauser, Ph.D.
Karim Rezhual, Ph.D.
Stephanie Lesmes, B.S.
Former Lab Members/Trainees
Ektor Rafti, M.D.
Ashish Dhongade, MBBS, M.D.
Arvin Bundhoo, M.D.
Nagender Ledala, Ph.D.
Sara Paveglio, Ph.D., M.S.
Tristan Lindberg, M.D.
Kezhen Huang, Ph.D.
Andrew Draghi, Ph.D.
Maushumi Assad, M.D.
Susan Pitts, M.D.
Erin Bennett, M.S.
Sara Paveglio, Ph.D., M.S.
Peer-Reviewed Publications
Matson AP, Van Kruiningen HJ, West AB, Cartun RW, Colombel JF and Cortot A. (1995) "The relationship of granulomas to blood vessels in intestinal Crohn's disease." Mod Pathol 8:680-5. PMID: 8532706
Matson AP, Zhu L, Lingenheld EG, Schramm CM, Clark RB, Selander DM, Thrall RS, Breen E and Puddington L. (2007) "Maternal transmission of resistance to development of allergic airway disease." J Immunol 179:1282-1291. PMID: 17617621
Puddington L and Matson A. (2008) "Breathing easier with breast milk." Nature Med 14:116-118. PMID: 18256610
Matson AP, Thrall RS, Rafti E, and Puddington L. (2009) "Breast milk from allergic mothers can protect offspring from allergic airway inflammation." Breastfeeding Medicine 4:167-174. PMID: 19301986
Matson AP, Thrall RS, Rafti E, Lingenheld EG, and Puddington L. (2010) "IgG transmitted from allergic mothers decreases allergic sensitization in breastfed offspring." Clin Mol Allergy 8:9. PMID: 20626874
Matson AP and Marinelli KA. (2011) "Allergic proctocolitis in the exclusively breastfed infant." Breastfeeding Medicine 6:6. PMID: 22050274
Jensen T, Roszell B, Weiss D, Zang F, Matson A, Thrall R, Claffey K, Finck C. (2012) "Rapid lung de-cellularization process: preservation of lung architecture, ability to support differentiated mESC, and in vivo implantation." Tissue Engineering 18:632-646. PMID: 22404373
Paveglio S, Puddington L, Rafti E, Matson AP. (2012) "FcRn-mediated intestinal absorption of IgG anti-IgE/IgE immune complexes in mice." Clin Exp Allergy 42:1791-1800. PMID: 23181795 (Accompanying Editorial)
Szczepanek S, Secor E, Bracken S, Guernsey L, Rafti E, Matson A, Thrall R, and Andemariam B. (2013) "Transgenic sickle cell disease mice have high mortality and dysregulated immune responses after vaccination." Pediatr Res. 74:141-147. PMID: 23728384
Matson AP, Cloutier M, Dhongade A, Puddington, Rafti E. (2013) "Maternal allergy is associated with surface-bound IgE on cord blood basophils." Pediatr Allergy Immunol 24:614-621. PMID: 23980848 (Editor's choice)
Secor ER Jr, Szczepanek SM, Castater CA, Adami AJ, Matson AP, Rafti ET, Guernsey L, Natarajan P, McNamara JT, Schramm CM, Thrall RS, Silbart LK. (2013) "Bromelain inhibits allergic sensitization and murine asthma via modulation of dendritic cells." Evid Based Complement Alternat Med 702196:1-9. PMID: 24381635
Bundhoo A, Paveglio S, Rafti E, Dhongade A, Blumberg RS, Matson AP. (2015) "Evidence that FcRn mediates the transplacental passage of maternal IgE in the form of IgG anti-IgE/IgE immune complexes." Clin Exp Allergy 45:1085-98. PMID: 25652137 (Accompanying Editorial)
Braken SJ, Adami AJ, Szczepanek SM, Ehsan M, Natarajan P Guernsey L, Matson AP, Schramm CM, Thrall RS. (2015) "Chronic exposure to house dust mite antigen leads to induction of regulatory alveolar macrophages and suppression of allergic airway disease." Int Arch Allergy Immunol. 166:243-258. PMID: 25924733
Bundhoo A and Matson A. (2015) "Necrotizing enterocolitis" Report for National Organization for Rare Diseases.
Cong X, Xu W, Janton S, Henderson WA, Matson A, McGrath JM, Maas K, Graf J. (2016) "Gut microbiome developmental patterns in early life of preterm infants: impacts of feeding and gender." Plows One 11(4):e0152751. PMID: 27111847
Briere CE, McGrath JM, Jensen T, Matson A, Finck C. (2016) "Breast milk stem cells: current science and implications for preterm infants." Adv Neonatal Care 16(6):410-419. PMID: 27749687
Paveglio S, Bennett E, Hawley KL, and Matson AP. (2017) "FcεRI-cross-linking reduces cord blood dendritic cell responsiveness to lipopolysaccharides." J Allergy Clin Immunol 139(6):1992-1994.e3. PMID: 27919739
Fitzstevens JL, Smith KC, Hagadorn JI, Caimano MJ, Matson AP, Brownell EA. (2017) "Systematic review of the human milk microbiota." Nutr Clin Pract 32(3):354-364. PMID: 27679525
Huang K, Mukherjee S, DesMarais, V, Albanese JM, Rafti E, Draghi A, Maher LA, Khanna KM, Mani S, Matson AP. (2018) "Targeting the PXR-TLR4 signaling pathway to reduce intestinal inflammation in an experimental model of necrotizing enterocolitis." Pediatr Res. 83(5):1031-1040. PMID: 29360809
Brownell EA, Matson AP, Smith KC, Moore JE, Esposito PA, Lussier MM, Lerer TJ, Hagadorn JI. (2018) "Interrelationship between donor human milk, mother's milk, preterm formula and neonatal growth outcomes." J Pediatr Gastroenterol Nutr. 67(1):90-96. PMID: 29543698
Bracken SJ, Adami, AJ, Rafti E, Schramm CM, Matson AP. (2018) "Regulation of IgE activity in inhalation tolerance via formation of IgG anti-IgE/IgE immune complexes." Clin Mol Allergy 16:13. PMID: 29796009
Lindberg TP, Caimano MJ, Hagadorn JI, Bennett EM, Maas K, Brownell EA, Matson AP. (2018) "Preterm infant gut microbial patterns related to the development of necrotizing enterocolitis."  J Matern Fetal Neonatal Med. [Epub ahead of print]. PMID: 29909714
Adami AJ, Bracken SJ, Guernsey LA, Rafti E, Maas K, Graf J, Matson AP, Thrall RS, Schramm CM. (2018) "Early-life antibiotics attenuate regulatory T cell generation and increase the severity of murine house dust mite-induced asthma." Pediatr Res. [Epub ahead of print]. PMID: 29967529