Install Pulse Secure Client
1. Click on the following link to bring you to the Pulse Secure Client Download in the UCONN Software Catalog: software.uconn.edu/pulse-secure-client-download/
2. Download the appropriate version for your Operating System.
3. Follow the installation instructions provided to you by the UCONN Software Catalog.
Configure and Connect to CAM VPN
Note: The following instructions are from a Windows desktop computer. The information should be similar for MacOS machines.
1. Once the Pulse Secure Client has been installed, open the program. Next to "Connections", click the + button to add a new connection.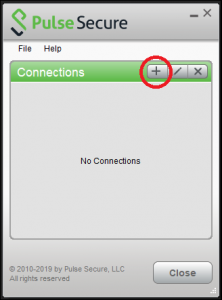 2. In the Add Connection window, enter "CAMVPN" as the Name and "vpn.cam.uchc.edu" as the Server URL. Then, click "Add".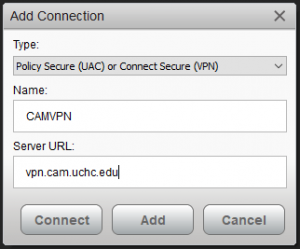 3. You will be prompted to enter your CAM credentials. You do not need to preface it with the CAM domain. Click to select the checkbox next to Save settings, then press "Connect".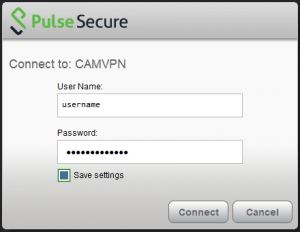 4. Once successfully connected, your Pulse Secure window should look like the one below.