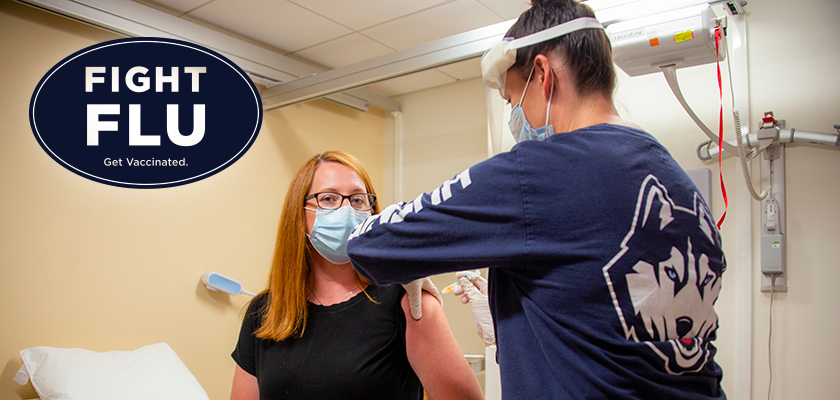 The influenza vaccine for the 2022-2023 flu season is now available to the UConn Health community, including the workforce, learners, volunteers, and of course, patients. This year, UConn Health's vaccine supply is quadrivalent (it covers four influenza strains). Additionally, the high-dose vaccine is available for those 65 and older. The CDC now formally recommends the high-dose vaccine for this age group. The optimal recommended time to receive the influenza vaccine is before the end of October.
Flu Vaccine Clinic Schedule
Wednesday, September 28, 9:30 a.m. to 3:30 p.m., Main Building, Keller Lobby.
Additional dates to come, check back for updates.
Be sure to bring your UConn Health badge.
Getting a flu shot, practicing safe hygiene like frequent handwashing, and staying home when sick are our best preventive measures against the spread of influenza. This is especially important in a health care setting such as ours. Getting the flu shot every year also helps protect our families, our coworkers, and ourselves so we can be there for our patients.
Introduced in 2020, UConn Health has an influenza vaccination policy for employees. This is in alignment with almost all the other hospitals/health systems in Connecticut and represents UConn Health's commitment to protecting our patients and our colleagues.
Employees are free to get their flu shot from their own physician or pharmacy. If you get your flu shot elsewhere, be sure to obtain documentation and send a scanned copy to flu@uchc.edu, fax to 860-679-4587, or send a hard copy to mail code MC 2940.
Frequently Asked Questions
UConn Health Minute: Flu Season During COVID-19
This UConn Health Minute on CPTV features UConn Health's infectious disease specialist Dr. David Banach discussing the best defense against influenza, which also may protect against coronavirus.
Age 65+ and Didn't Get Your Flu Shot Yet?
Consider getting this year's flu shot as a participant in a UConn Health study that could lead to a more effective influenza vaccine.
The UConn Center on Aging and JAX are collaborating on a study to better understand the immune system response to the influenza vaccine in older adults. Learn more about this study and how to join.