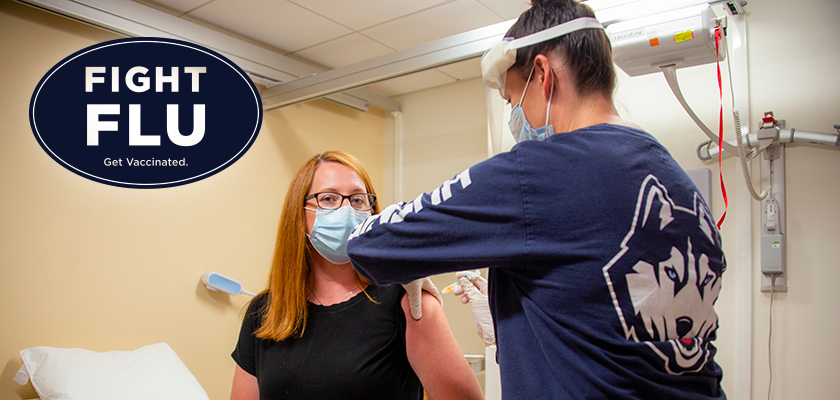 Getting a flu shot, practicing safe hygiene like frequent handwashing, and staying home when sick are our best preventive measures against the spread of influenza. This is especially important in a health care setting such as ours. Getting the flu shot every year also helps protect our families, our coworkers, and ourselves so we can be there for our patients.
New this year, UConn Health now has a policy making flu shots mandatory for health care workers and all employees who will be or could be physically on our campus. This is in alignment with almost all the other hospitals/health systems in Connecticut and represents UConn Health's commitment to protecting our patients and our colleagues.
Nonclinical employees are encouraged to make an appointment with Employee Health Services, 860-679-2893.
Clinical employees are encouraged to obtain their flu shot from a mobile immunizer in their work area. Mobile immunizers will have a "Just Ask" sticker on their badge.
If you get your flu shot elsewhere, be sure to obtain documentation and send a scanned copy to flu@uchc.edu, fax to 860-679-4587, or send a hard copy to mail code MC 2940.
Frequently Asked Questions
UConn Health Minute: Flu Season During COVID-19
As if the COVID-19 pandemic isn't bad enough, the flu season is not far away. How severe will the flu season be as it converges with the COVID-19 outbreak? What can we do to prepare? UConn Health's infectious disease specialist Dr. David Banach discusses the best defense against influenza, which also may protect against coronavirus.