BEFORE YOUR SURGERY
To assist in a successful surgery, please follow these guidelines on the days before your procedure.
One to three days before surgery, expect a 5 to 10 minute phone call from the Surgery Center nurse. Have a pen and paper ready. They will review your medical history and surgical instructions.
Follow your surgeon's instructions about taking routine medications.
Make arrangements for a responsible adult over the age of 18 to accompany and stay with you for 24 hours after surgery.
You will be called with your arrival time after 2 p.m. on the last working day prior to your surgery.
DAY OF SURGERY
Follow these simple rules to make the day of your surgery safer and more comfortable.
Do not eat or drink after midnight (unless otherwise directed). This includes mints, lozenges or gum.
Bring a list of medications with dosage and frequency information.
Bathe or shower on the day of surgery.
Brush your teeth but do not swallow any liquid.
Do not use makeup, hair spray, lotions, or oils.
Remove all nail polish and body piercings.
Wear loose, comfortable clothing and shoes.
Leave all jewelry and other valuables at home.
Bring all sensory/assistive devices including glasses, hearing aids, and CPAP machines.
Be prepared to remove contact lenses.
If indicated, you must supply guardianship paperwork and/or power of attorney documents. The surgery will be cancelled if these legal documents are not available.
The anesthesia team will be available to discuss anesthesia options and answer any questions.
Bring a photo I.D.
Do not bring children with you on the day of your surgery.
DISCHARGE
If you are having day surgery:
Whether you are driving in a car or taking a cab or other mode of public transportation, a responsible adult over the age of 18 must accompany you and stay with you for 24 hours.
Follow your doctor's instructions regarding rest, activity, diet, medications, bathing, and returning to work.
You will be discharged when your doctor determines it is safe for you to leave the facility.
If you are being admitted to the hospital:
Contact the hospital floor for the visitor policy including child visitor restrictions.
You should anticipate leaving at 11 a.m. on the day your doctor discharges you from the hospital.
If you're having surgery at UConn John Dempsey Hospital and will be staying overnight, watch this video for a patient perspective on what you can expect during your stay with us.
Our 1,200-square-foot, high-tech operating room allows surgeons to perform a range of procedures in one setting.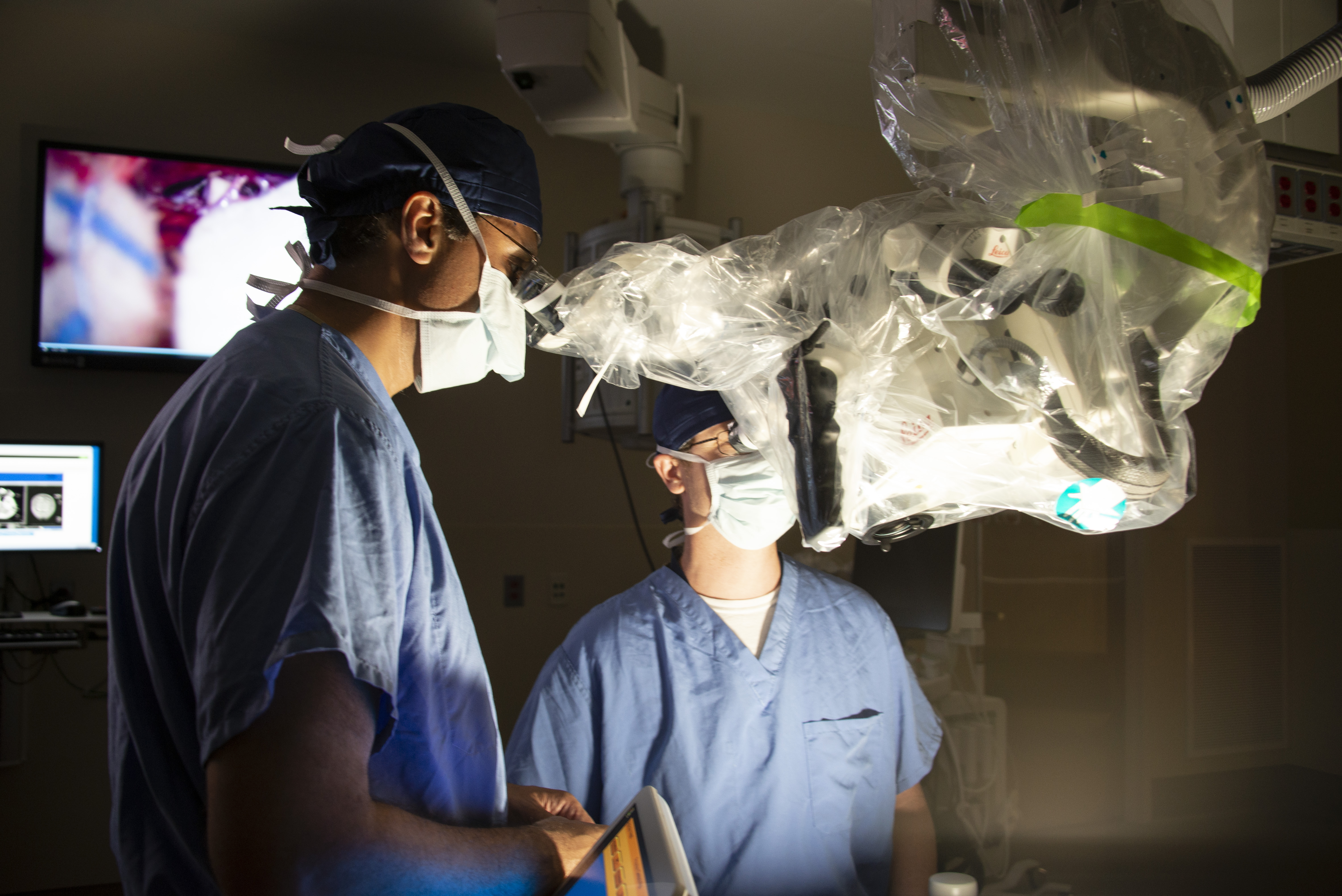 Augmented Reality Surgical Microscope Added to UConn Health Armamentarium
UConn Health is first in the nation to acquire a high-tech surgical microscope with new augmented reality computer-generated digital imaging capabilities to visually assist surgeons during the most complex surgeries from brain (for stroke and tumors) to spine surgeries. Read more.