Faculty and Staff
The department consists of 23 full- and part-time faculty, over 35 adjunct faculty with clinical or teaching appointments, and over 25 dedicated research, administrative, and professional staff members.
Department Administration
Chair Person
Thomas F. Babor, Ph.D., M.P.H.

Associate Chair
Howard Tennen, Ph.D.
Director of Program in Applied Public Health Sciences
David I. Gregorio, Ph.D., M.S.
Administrative Officer
Denise L. Parris
Executive Committee
The executive committee, comprised of faculty representatives from the department's various divisions, centers, and programs and department administrators advises the department chairman.
Faculty Members
The department has 23 full- and part-time faculty plus other faculty with academic appointments in the department.
Did You Know?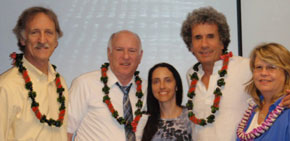 During 2017 and 2018, full- and part time faculty in Community Medicine authored 150 peer-reviewed journal articles.
---
The department has two endowed chairs: Physicians Health Services Chair in Community Medicine and Public Health and UConn Health Auxiliary/Joseph M. Healey, Jr. Chair in Medical Humanities and Bioethics.
---
Howard Tennen, Ph.D. was the first Board of Trustees Distinguished Professor to be named at UConn Health.
Professors Emeriti
Glenn Affleck, Ph.D.
Holger Hansen, M.D., Dr.P.H.
Adjunct Faculty
The Program in Applied Public Health Sciences, in particular, and other centers, units, and divisions within the department utilize the services of 36 adjunct faculty and clinical community-based faculty from outside the department and/or UConn Health to teach or serve as preceptors to students. For information on contacting these individuals contact the particular area of the department who utilizes their services. If you know the individual works at UConn Health, try searching the UConn Health Employee Directory or if the individual's primary office is on the UConn Storrs campus try using the UConn phone book.
Staff
The department employs more than 25 dedicated professional research assistants, associates and administrative staff to support its research, teaching and service mission. For a complete listing of full- and part-time staff members, use "Comm Med and Hlth Care" as the department search criteria in the UConn Health directory.