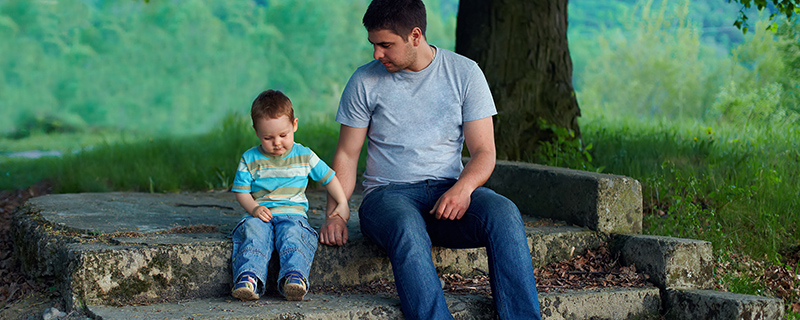 What did you picture when you thought of yourself parenting a child?
Most of us saw ourselves tenderly holding an infant or child, playing together, snuggling, holding hands, or reading a book at night. Secure attachments are the embodiment of these mental pictures. The children cuddle, save their special surprises for parents, share delight at being together, and feel safe and valued by their parents. The parents are kind, strong, and sensitive. The parents set loving limits. Frustration is low—enjoyment high. Of course, parenting images like this are often idealized. Still, parents should be able to anticipate that a portion of parenting will be just this way.
Gazing at each other, playing together, skin-to-skin contact, feeding times, and meeting needs in a sensitive way are ways to "bond." Over the course of months, as parents and children repeat these experiences many times, they become exclusively bonded to each other. We refer to these successively intimate bonds as "attachments."
If you are parenting and your child is not yet responding as you hoped, it is important to remember that attachments, like any relationship, may take some time to form, with ranges of six months for infants and toddlers, and up to a year for preschoolers and older.
Children who are forming attachments later in life often show their needs in a confusing manner. They may react in a confusing manner when parents try to cuddle, play or meet their needs. Parents should realize that the children do want to attach, but simply do not know how. It will take time and support for parents to keep on trying. Parents who have positive attachments, and who have time and emotional support, are in a good place to begin the attachment process. Children who have had fewer losses or stressful experiences usually have an easier time forming attachments. However, with some persistence and positivism, parents can woo even resistant little ones into security in the vast majority of cases.
Deborah D. Gray, M.S.W., M.P.A.
Attaching in Adoption: Practical Tools for Today's Parents and Nurturing Adoptions: Creating Resilience after Trauma and Neglect
Learn More
Featured Reading
Attaching in Adoption: Practical Tools for Today's Parents
Deborah Gray, 2012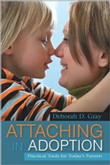 Attaching in Adoption is a comprehensive guide for prospective and actual adoptive parents on how to understand and care for their adopted child and promote healthy attachment. This classic text provides practical parenting strategies designed to enhance children's happiness and emotional health. It explains what attachment is, how grief and trauma can affect children's emotional development, and how to improve attachment, respect, cooperation and trust. Parenting techniques are matched to children's emotional needs and stages, and checklists are included to help parents assess how their child is doing at each developmental stage. The book covers a wide range of issues including international adoption, fetal alcohol spectrum disorder, and learning disabilities, and combines sound theory and direct advice with case examples throughout. This book is a must-read for anyone interested in adoption and for all adoptive families. It will also be a valuable resource for adoption professionals.
AAP Lending Library
View books and DVDs on Attachment available to borrow
Online Learning
Bonding and Attachment in Maltreated Children
Free online course offered by the Child Trauma Academy.
Building Bonds of Attachment: Practical, Expert Advice
Webinar offered by Adoption Learning Partners
All parents hope for close relationships with their children. And for children, trusting their parents and feeling secure in their family is essential. Often, adoption can pose challenges to the attachment process. Circumstances prior to adoption experiences either in utero, in an orphanage, or in foster care, can create serious barriers to attachment.
Connecting Your Family, Inside and Out
Webinar offered by Adoption Learning Partners
Secure parent-child attachments are essential to healthy child development, but often adoption can present challenges to the process. World renowned attachment expert Dr. Dan Hughes shares family centered strategies on how to connect to your child as a toddler, tween and teen. Lynn Wetterberg presents ideas on finding attachment-related resources and professional support.
The Journey of Attachment
Online course offered by Adoption Learning Partners
Attachment is an essential component of any healthy, happy family. Adoption, however, may present challenges to the attachment process. Designed for both first time adoptive parents and parents struggling with attachment issues with their adopted child, this course provides practical tips on how to form and sustain this important bond.
Articles and Websites
"Will I Love Her?": Love and Attachment in Adoption
National Council for Adoption, Adoption Advocate, No. 68, February 2014
Attachment: What Works?
Center on the Social and Emotional Foundations for Early Learning, 2011
Explains attachment and its importance, describes the characteristics of children with secure or insecure attachment relationships, notes cultural differences in attachment, and provides strategies teachers and caregivers can use to promote children's secure attachment.
Attachment: The First Core Strength
An article by Bruce Perry, M.D., Ph.D. on scholastic.com.
Bonding and Attachment in Maltreated Children: How You Can Help
An article by Bruce Perry, M.D., Ph.D., on scholastic.com.
Recommend an article or other resource
Please note: The Adoption Assistance Program (AAP) does not promote or endorse any websites, organizations or individuals that may be linked from this site. The AAP does not guarantee the accuracy of the information or the appropriateness of advice for a particular situation. It is our intent to assist users in their search for reliable and useful sources of information pertaining to adoption, legal guardianship, and parenting.