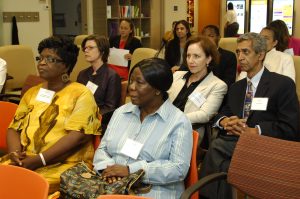 SisterTalk: Faith & Health in Action  is based on SisterTalk Hartford, a faith-based healthy lifestyle-weight loss program, funded by the Donaghue Foundation. SisterTalk Hartford was developed and tested collaboratively by UConn Health researchers, hospital advisors and the leadership and volunteers of 12 African-American churches in Hartford, Connecticut. SisterTalk Hartford was created from a partnership between twelve African-American and Black churches, Saint Francis Hospital, UConn Health, and Brown University. This unique program combines the strengths of formative research, development, and cultural tailoring by nutrition and weight loss experts at Brown University with spiritual materials developed in partnership with the church community.
The creation of SisterTalk Hartford was motivated by an interest on the part of Hartford's African-American and Black church leaders to offer an effective solution to the obesity and weight problem in their congregations and communities. This effort represents a truly unique and groundbreaking collaboration among members of the Hartford community – a first-of-its-kind partnership between local healthcare leaders and leaders of the African-American clergy in downtown Hartford.
The Ethel Donaghue Center for Translating Research into Practice and Policy at UConn Health (TRIPP Center) serves as the academic/research home for the SisterTalk Hartford, and plays a lead logistical role in promoting, managing, and disseminating SisterTalk Hartford.
The program has since been updated and tailored to African-American and Black women in New York City. UConn Health, in partnership with EmblemHealth and church leadership in Harlem and Cambria Heights, reviewed, rewrote and re-filmed the original footage to make it appropriate for women in New York City. The TRIPP Center (now UConn Health Disparities Institute) has worked closely with EmblemHealth in New York and the Greater Allen Cathedral of New York to train them to become the new Resource Center for the SisterTalk: Faith & Health in Action program.