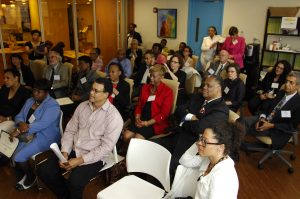 EmblemHealth Provides a SisterTalk Resource Center
Churches that adopt SisterTalk: Faith & Health in Action (SisterTalk) run the program with their own lay leaders, with support from the SisterTalk Resource Center. Churches can receive a variety of hands-on support from SisterTalk Resource Center staff in:
Training leaders
Recruiting participants
Starting and continuing the program
Program sustainability
Other healthy-lifestyle activities
As Director of Community Affairs, Programs and Corporate Events at EmblemHealth, Michelle Paige also serves as the Director of the SisterTalk Resource Center in New York. Judith Fifield, PhD is the Principal Investigator and Founder of SisterTalk Hartford and SisterTalk: Faith & Health in Action.
For general questions contact:
Jeannette Wells
parishhealthministry.ny@gmail.com 
For research questions contact:
Judith Fifield, PhD
UConn Health Disparities Institute
241 Main Street 5th Floor, MC-7030
Hartford, CT 06106-7030
(860) 679-3815
fifield@uchc.edu