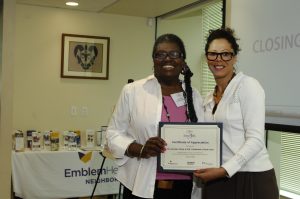 SisterTalk: Faith & Health in Action (SisterTalk) is a faith-based educational and support program designed specifically for African-American and Black women who want to attain a healthier lifestyle.
The program has been developed and tested within the church community, and is delivered by churches for the benefit of their congregations and communities. SisterTalk activates and motivates participants to be knowledgeable and confident as they work together to change behavior and problem-solve for weight loss and long-term weight control.
Through this 12-week program, participants become educated about how to make better food choices and how to be more informed consumers. SisterTalk teaches participants how to cook healthy, good-tasting food, without sacrificing their favorites.
The program was designed specifically for African-American and Black Christian women and has been proven as an effective, affordable, and medically sound film-plus-support group program. The faith components of this program support Christian women in drawing upon faith in God to help with changes for healthier living. SisterTalk is sustainable and flexible to work in many ways over time in the church.