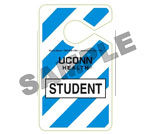 All students parking on the UConn Health campus are required to register for a permit, park in their assigned locations, and display a valid hang tag.
UConn Health students are assigned premium parking in Garage 1 on levels 4, 5, and 6. Visiting students may be assigned to an alternative location such as L3 based on current parking demand.
Students with a valid UConn Health Student permit and hangtag may park in available spaces after hours during nights and weekends, and also on major holidays only in Lots A1, A4, and A5; West Road; 195 Farmington Avenue (Area 3 spaces only); Cell and Genome Sciences Building (Area 3 only).
Weekdays: Monday through Thursday from 5 p.m. to 6 a.m.
Weekends: Friday 5 p.m. through Monday 6 a.m.
Major holidays: All day until 6 a.m. the following morning.
West Road parking spaces are located in between Garage 2 and Munson Road.
Lots A1, A4, and A5 are located off of West Road.
If spaces are not available in these areas, students must park in their assigned location, i.e., Garage 1 - levels 4, 5, and 6, Shuttle Lot 3, etc.
Parking in unauthorized locations and/or during unauthorized times will result in citations.
Shuttle service is provided to outer campus locations on Farmington Avenue, Munson Road, and South Road. View Shuttle Bus Schedules.
Parking locations may be reassigned as needed, due to construction, events or other special situations.
UConn students from Storrs or the Regional campuses attending classes at UConn Health (Farmington) should contact us by email at parking.transportation@uchc.edu or by phone at 860-679-4248 for parking information.
Student Parking Fees
Annual
$162.00
Fall Semester
August 1 – December 31
$67.50
Spring Semester
January 1 – May 31
$67.50
Summer Session
June 1 – July 31
$27.00
Monthly*
$13.50
*The monthly rate is available for short term visiting students, or as an extension for students with a current-valid annual or semester based permit. Permits will expire and garage access will be turned off at the end of the term that has been purchased. Students are responsible for completing permit renewals in a timely manner, and keeping their permit current and in good standing.