Thank you for visiting our Room Scheduling page.  We are happy to assist you with your scheduling and planning needs.  We will work along with you and key stakeholders to assure that your meeting or event is a success.
Event Parking Note:  When scheduling a room, in order to be sure you have ample parking for the number of guests you are expecting, enter the actual number of outside attendees on the room request.
To reserve a room, check availability through the Meeting Room Manager.
Meeting Room Manager
Conference Room Calendars & Request Portal
Meeting Room Manager User's Guide
Academic Rotunda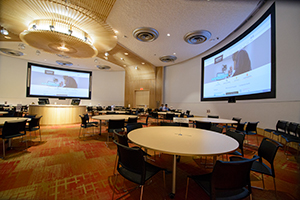 The Academic Rotunda is the centerpiece of our latest expansion, providing remarkable classroom space for our medical, dental and graduate schools.  When available, the venue may be utilized for non-academic functions. There are two rotunda set-up style choices available.
Room Scheduling and Events Services
We are located in the lower campus of UConn Health.  If you have any questions or concerns, please contact us:
Room Scheduling and Events Services
Administrative Services Building (ASB)
3rd Floor, Room D3340
MC 8230
860-679-2127
roomscheduling@uchc.edu 
Office Hours:  Monday thru Friday, 8 a.m. to 4 p.m.
(excluding holidays)