UConn Health participates in clinical trials and research to ultimately identify new treatment options for conditions of the eyes.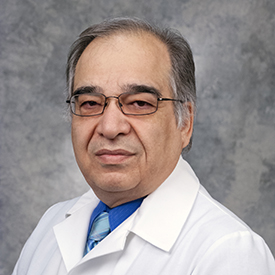 Mansoor Sarfarazi, Ph.D., FARVO
Molecular Genetics Studies of Glaucoma
Glaucoma is a leading cause of blindness that affects over 70 million people worldwide. The clinical manifestation of this condition extends from birth to 80 years of age. Glaucoma can be a hereditary condition. Over the last two decades, our laboratory has identified and published eight genetic loci for this condition that includes primary congenital glaucoma, and primary open angle glaucoma (POAG), and further cloned four glaucoma-causing as the first "PCG" gene; optineurin (for optic neuropathy inducing protein; OPTN) as the first "normal tension" adult-onset POAG gene; also WDR36 (WD40 repeat protein) and GLC1D for "high tension" adult-onset POAG. Over the years, we utilized a series of in vivo and in vitro experiments to determine the functional significance of these genes in the etiology of glaucoma. We cloned the orthologue of OPTN and with ocular profiling of OPTN, we showed specific patterns of expression and differential co-localization with each of these OPTN-IPs. Similar studies for other glaucoma-causing and/or their proven interacting-proteins are the subject of future investigations.
Molecular Genetics Studies of Other Inherited Conditions
Our laboratory also mapped and cloned CHX10 and OTX2 genes for microphthalmia; HOXD13 for synpolydactyly (syndactyly type II) and; GDF5 for multiple synostosis type II. Furthermore, our research team had been involved in molecular genetics studies of pseudoexfoliation syndrome, closed angle glaucoma, Axenfeld-Rieger syndrome, optic atrophy (juvenile Kjer type), Leber congenital amaurosis, strabismus, inherited lymphedemas (Nonne-Milroy-Meige), learning disabilities (dyslexia) and mitral valve prolapse.
Ongoing Studies
Currently, we are utilizing the next-generation exome and DNA sequencing technologies to identify new defective genes for various forms of Glaucoma, as well as a number of other above-mentioned clinical disorders. Our aim is to establish a firm correlation between the type of gene mutation(s) and clinical progression of the disease phenotype. This in turn can be used as a translational research tool for accurate clinical management of the patient population worldwide, as well as development of new drug therapies and the much anticipated personalized genomic medicine.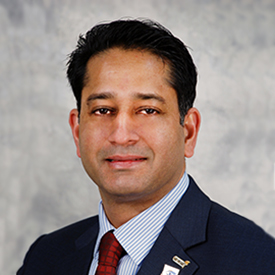 Royce Mohan, Ph.D.
The Mohan lab studies traumatic ocular injury and eye diseases such as, age-related macular degeneration (AMD) and glaucoma. Employing a combination of genetic, cell and molecular, and pharmacological approaches, the lab is investigating a pathological process known as fibrosis. We made an important discovery, identifying the natural product, withaferin A, as a potent angiogenesis and fibrosis inhibitor and demonstrated that this small molecule targets the type III intermediate filament proteins vimentin and glial fibrillary acidic protein (GFAP).
The regulation of GFAP expression in injured retina by activities of peptidyl arginine deiminases (PAD), a widely studied drug target, is helping unravel important molecular events that occur after injury that may contribute to chronic irreversible pathology. Inhibitors of PAD, along with withaferin A, are being tested to help advance new potential treatments for chronic fibrotic conditions. Chemical probes derived from withaferin A that bind to intermediate filament proteins and illuminate these biomarkers are also being developed for future applications in early diagnosis of AMD.
Another exciting discovery is the illumination of the pathological role of Schwann cells, a specialized cell that wraps around nerves in the cornea. We have shown for the first time that Schwann cells can differentiate into myofibroblasts and drive corneal fibrosis and subsequently also neurofibromas when made to chronically activate the growth-promoting kinase ERK1/2. Clinical features of corneal tumors show similar hallmarks found in rare cases of human patients with neurofibromatosis-1. Studies are underway to also unravel how Schwann cells contribute to nerve dysfunction in the cornea.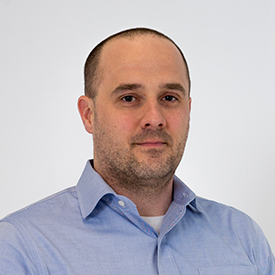 Tannin Schmidt, Ph.D.
Tannin A. Schmidt, Ph.D., is an associate professor in the Biomedical Engineering Department at UConn Health. His research interests in bioengineering lie within biomaterials and biotherapeutics, biomechanics, biotribology, and biochemistry. He focuses on articular cartilage and ocular surface lubrication, as well as orthopedic and ophthalmic biomaterial development and characterization for the treatment of diseases. He is also a co-founder of Lubris BioPharma, LLC, a clinical stage biotech startup commercializing the use of recombinant human lubricin for the treatment of arthritis, dry eye, and other diseases. Novartis recently exercised an option to in-license recombinant human lubricin for ophthalmic indications worldwide (outside Europe) including the treatment of dry eye.
Proteoglycan 4 (PRG4), also known as lubricin, is a mucin-like glycoprotein found throughout the body in various tissues and fluids, classically defined by its boundary lubricating properties. The overarching goal of this work is to understand the fundamental mechanisms and properties of PRG4, also known as lubricin (a critical lubricating protein found throughout the human body, recently discovered to also have anti-inflammatory properties), at relevant biointerfaces and biomaterials, and to apply that knowledge to the development of recombinant human PRG4-containing biotherapeutics and biomaterials. To accomplish this biomechanical, biochemical, and biophysical methods are employed in collaboration with biologists, engineers, and clinicians.
Four current objectives of this work are: 1) elucidating the molecular basis of synovial fluid's articular cartilage boundary lubricating function, and providing the framework for development of PRG4-containing OA biotherapeutics; 2) understanding PRG4's role on the ocular surface, and characterizing/developing novel PRG4-containing contact lens biomaterials and artificial tears for the treatment of dry eye disease; 3) assessing PRG4's potential as a boundary lubricant of biomaterials for a variety of other clinical applications, e.g., orthopedic biomaterials; 4) examining PRG4's biological properties and its potential as a therapeutic treatment of a variety of inflammatory conditions, tissue adhesions, and cancer.