There are four AHEC regional offices in Connecticut, which together provide statewide coverage. Each center serves a distinct area of the state. The Connecticut AHEC Program Office at UConn School of Medicine in Farmington administers the AHEC program in Connecticut.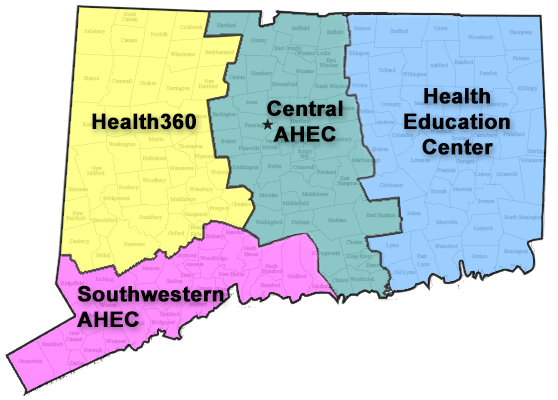 Health360, Inc.
Waterbury, CT
Areas Served: Greater Waterbury, Greater Danbury and Litchfield County
Web: health360.org
Patricia Harrity, M.S.
Executive Director
Email: harrity@health360.org
Central AHEC, Inc.
151 New Park Avenue, Suite 3C, 1st Floor
Hartford, CT 06106
Areas Served: Hartford and Middlesex Counties, Meriden and Wallingford
Phone: 860-231-6250
Web: www.centralctahec.org
Patricia Gonzalez, M.S.
Executive Director
Email: pgonzalez@centralctahec.org
Southwestern AHEC, Inc.
5 Research Drive, 2nd Floor
Shelton, CT 06484
Areas Served: Fairfield and New Haven Counties, including Bridgeport and New Haven
Phone: 203-372-5503
Fax: 203-513-2834
Web: swctahec.org
Fernando Morales
Executive Director
Email: fernandom@swctahec.org
Health Education Center, Inc.
55 Main Street
Norwich, CT 06360
Areas Served: New London, Tolland and Windham Counties
Phone: 860-465-8281
Fax: 860-724-2568
Web: healtheducenter.org
Alyssa McClain
President
Email: mcclain@healtheducenter.org