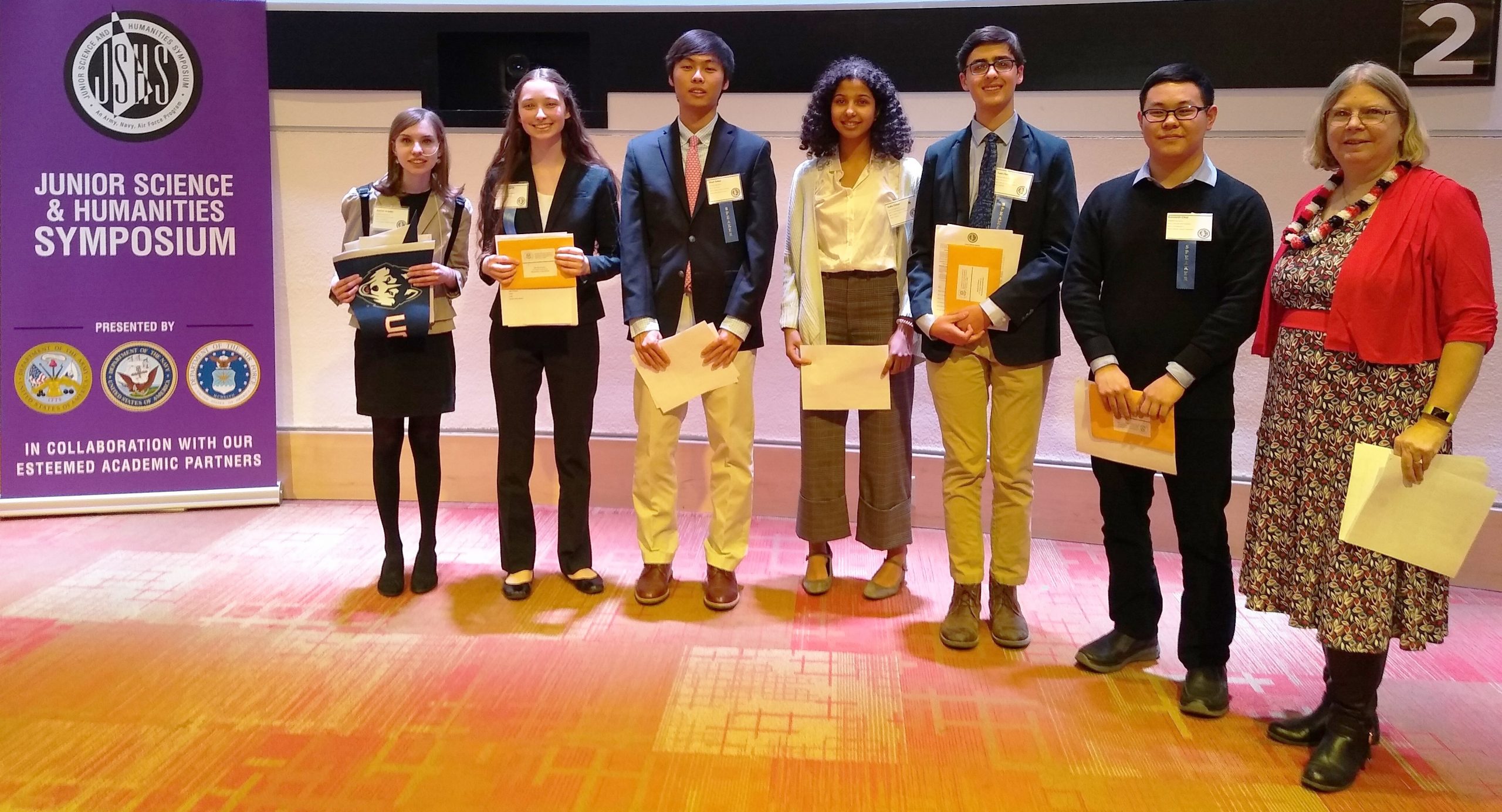 CT AHEC and UConn Health (under contract with the National Science Teaching Association) are pleased to sponsor the 2021 Connecticut Junior Science and Humanities Symposium (a part of the U.S. Army, Navy and Air Force Junior Science and Humanities Symposia Program).
JSHS is designed to challenge and engage students (grades 9-12) in science, technology, engineering or mathematics. Individual students compete for scholarships and recognition by presenting the results of their original research efforts before a panel of judges and an audience of their peers. The top five presenters at the CT-JSHS will be invited to attend the National Symposium April 14-17, 2021, to be held virtually (info updated 12/17/20). We also offer cash and scholarship awards totaling close to $40,000.
At the CT-JSHS, CT students compete, exhibit or simply observe their peers. Due to the COVID-19 pandemic, the Connecticut 2021 symposium will be held virtually via WebEx on Saturday, March 6, 2021. The tentative schedule is as follows:
Some symposium activities, including the STEM poster exhibition (non-competitive), will be held during the week in advance, February 28th through March 5th.
The virtual oral and poster competitions will take place on Sunday, February 28, 2021 (invitation only).
On Saturday, March 6, the symposium will be held from 10 a.m. to 3 p.m. with an hour break for lunch. The welcome and keynote address will be followed by five simultaneous tracks involving oral presentation sessions, competitive poster sessions, lab "tours", career exploration, and a humanities activity. The day concludes with an awards ceremony.
Over the years, these Symposia have been effective in enhancing high school student motivation, stimulating original research and providing the setting for exciting scientific meetings. Mature scientists have often expressed astonishment at the high level of student accomplishment. The National Association of Secondary School Principals has placed the JSHS program on the NASSP National Advisory List of Contests and Activities for 2020-2021.
There is no fee for attending.
Chaperones are not required this year. We must limit each school to ten participants and will only accept the first ten received.
For potential presenters:
For presenters (applicants will be notified about their status in late January):
Resources:
***
Results:
2020 Top Finishers
1st Place: Rachel Brooks, 11th Grade, Christian Heritage School--Increased Prevalence of Gastrointestinal, Cardiovascular, and Immunologic Conditions in Hospitalized Patients with Ehlers-Danlos Syndrome: A Case-Control Study
2nd Place: Sam Florin, 11th Grade, Greenwich High School--Decoding Algorithms for Correction of X-Z and Spatially Correlated Errors in Topological Quantum Computing
3rd Place: Kenneth Choi, 11th Grade, Ridgefield High School--Towards Privacy-Preserving Intelligence: Differential Privacy in Machine Learning
4th Place: Ashley Granquist, 12th Grade, William H. Hall High School: Multiwavelength Identification of Black Hole Candidates in M13
5th Place: Shun Sakai, 12th Grade, Greenwich High School--Portable, Simple Filtration of V. cholerae Infected Water using Electrified, Silver-SWCNT Nanostructures within a Sari-Cloth Textile
The top four above competed at the National JSHS's virtual competition, April 15-17, 2020, in addition to the top-finishing poster competitor:
Halla Clausi, 11th Grade, Greenwich High School--A Photonic Crystal-Based, Non-Invasive, Color-Changing Sensor for Detection of Salivary SOD2, for Diagnosis of Hepatocellular Carcinoma
Ridgefield High School teacher Patrick Hughes was selected to receive the 2020 Teacher Award.
National competition results appear in the CT AHEC FYI spotlight.
FOR MORE INFORMATION
Ellen Ravens-Seger
Phone: 860-679-7969
Email: ravensseger@uchc.edu