UConn Health has assembled a top-notch team of board-certified doctors and surgeons to provide complete vascular care for our patients.
The specialists in Vascular and Endovascular Surgery routinely treat patients for artery and vein diseases ranging from varicose veins to aortic aneurysms, and they offer the most modern, minimally invasive procedures available today.
We have an experienced team of vascular and endovascular surgeons who collaborate with cardiologists in vascular medicine and other physicians to provide our patients with the highest quality of patient-centered care.
As a research-focused, academic medical center, our doctors also work closely with researchers to develop new and innovative treatment options for a variety of vascular conditions and share these new advancements with the future practitioners of vascular medicine.
Message from the Chief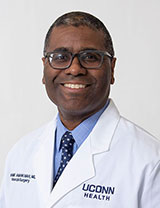 I would like to welcome you to the Division of Vascular and Endovascular Surgery.
Our Mission
Our physicians are dedicated to providing comprehensive, collaborative, and innovative care to all the members of our diverse community regardless of race, ethnicity, or gender. Our emphasis is to deliver exceptional personalized care.
Our Vision
The Division of Vascular and Endovascular Surgery at UConn Heath seeks to be the regional center for cardiovascular care and prevention of cardiovascular disease. Through collaboration with specialists in cardiac surgery, cardiology, and vascular medicine, we pledge to deliver care that is comprehensive and innovative to the members of our community.
Our focus remains on the three pillars of health care delivery: medical education, research, and clinical excellence.
Our commitment to medical education allows us to continue to provide current and future health care providers the education and training needed to care for patients locally, regionally, and nationally.
Our ongoing participation in several areas of research (basic, translational, and clinical) provides the opportunity for our patients to receive the latest advancements in cardiovascular management and treatment.
Our highest clinical excellence standards in innovative, personalized care make us your primary choice for vascular care by individuals and referring physicians in our region.
Through our collaboration and integration, we promise to provide safe, compassionate, patient-centered, high-quality cardiovascular care.
Kwame S. Amankwah, M.D., M.Sc., FACS, FSVS, RPVI
Chief, Division of Vascular and Endovascular Surgery