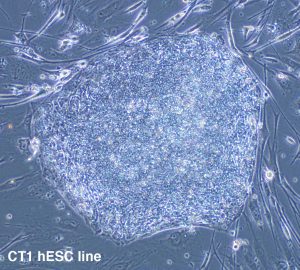 The UConn Stem Cell Core has four hESC lines that were generated in house and are available for research.
The four CT Human embryonic stem cell (hESC) lines are CT-1, CT-2, CT-3, and CT-4.  They are NIH Human    ESC Registry-approved.
CT-2 is the most widely used of the four lines.
Contact us to request CT hESCs.
Sample of Publications using CT hESCs
Progresses and challenges in optimization of human pluripotent stem cell culture
Human embryonic stem cell derivation, maintenance, and differentiation to trophoblast
Specification of region-specific neurons including forebrain glutamatergic neurons from human induced pluripotent stem cells
Slice culture method for studying migration of neuronal progenitor cells derived from human embryonic stem cells (hESC)
Increasing doublecortin expression promotes migration of human embryonic stem cell‐derived neurons