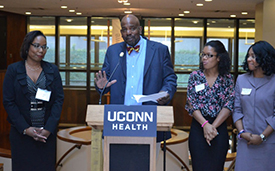 The Connecticut Institute for Clinical and Translational Science (CICATS) at UConn has been selected to take part in a new NIH initiative, Building Infrastructure Leading to Diversity (BUILD), designed to enhance diversity in the biomedical research field. The initiative's goal is attracting minority students to the STEM workforce and encouraging them to become future contributors to the NIH-funded research enterprise.
Part of a multi-institution consortium led by the University of Texas at El Paso tasked with developing these new opportunities, CICATS was invited to contribute to the grant because of its successful track record in creating pipeline programs such as the Young Innovative Investigator Program (YIIP) and the M1 Mentorship Program. As a major contributor and recipient of a BUILD award, CICATS will oversee the execution of the program here at UConn.
Correcting the imbalance of STEM workforce requires advances in research, engineering, and medicine, community outreach and changes to public policy. CICATS' goal is bringing the necessary change makers together through the BUILD award to help facilitate the exchange of ideas and collaborations across multiple disciplines.