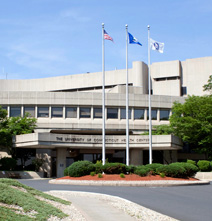 Today, as our nation celebrates Flag Day – the date marking the official adoption of the Stars and Stripes as the flag of the United States – I ask all of you to reflect for a moment on the flag and the journey it has taken through our American history. From its early days representing just 13 states until the present day, the flag has seen our nation through war and peace, times of challenge and times of prosperity. It flies at national landmarks and is proudly displayed at homes and businesses throughout the country – including our Health Center where the flag is prominently displayed in the Main Lobby.
The flag is a symbol that unites all Americans and celebrates our nation's rich and diverse heritage. When I look at the Stars and Stripes, I am filled with pride and reminded that its threads were woven by many hands, over the course of many generations. Together, we can weave our own piece of history by creating a brighter and better future for our patients, students, colleagues and everyone who is part of the Health Center family.
Today, it is my honor to wish all of you a happy Flag Day.