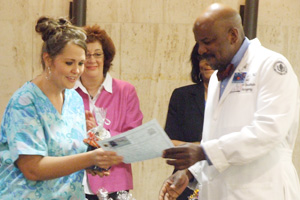 Last Friday, I had the privilege of attending the PAWS ceremony and distributing the April awards. One might ask, as I did when I first came to the UConn Health Center, what are PAWS awards? They are awards given to employees that showcase our own for the quiet excellence performed every day. To receive a PAWS award, an employee must be Part of a team, have an Awesome attitude, Wonderful work ethic, and provide Superior service. These employees exemplify the culture that is the cornerstone of our mission here at the Health Center.
The award recipients are Anne Bennett, Medicine; Lynette Branday, Elizabeth Fabbri and Pamela Iannucci, UMG/MFM; Nancy Hoerup, Telecommunications; Cathy Cassineri, Calhoun Cardiology Center; Christine Delgrande, Pulmonary Function Lab; Sonya Dickens, CMHC/Manson Youth; Lynn Grumm, Core Lab; William Kilray, Pharmacy; Marisol Koniar, UMG/IMA Module; Shelly Lombardo and Nicole McDermott, Neag Comprehensive Cancer Center; Chantel Melendez, Radiology; Carolyn Murphy and Jennifer Smedberg, Rehabilitation Services; Frank Nichols, Oral Health & Diagnostic Sciences; Nicholas Noyes, Clinical Engineering; Maria Pessoa, Geropsych/3rd Floor; Sheila Pettway, UMG/GI-ID; Kesia Smith, Radiology; Dana Vibert, Outcome Performance Systems; Agnes White, Faculty Practice Plan Clinic; Abdul Yusoff, Dermatology. The team award goes to the IDX web implementation team. Members include Laurie Heineman, Lori Delvaglio, Diane Hamalian, Paul Consonni, Lori Giblin, Deborah Halle, Linda Clark, Lorraine Boulanger, Elissa Wagner, Kim Bourbeau, Matthew Shannon, and Ingrid Napoletano.
Congratulations to all the PAWS award recipients!