Ear, nose and throat (ENT), also called otolaryngology, is the medical specialty that pertains to the diagnoses and medical and surgical treatments of disorders of the ears, nose, and throat. The conditions treated can include hearing loss, dizziness, nasal and sinus disease including taste and smell disorders, voice and swallowing disorders, tonsil and adenoid disorders, snoring and sleep apnea, thyroid and parathyroid disease, and cancers of the head and neck.
Specialized Services in Two Convenient Locations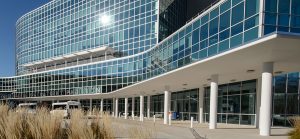 Our ENT offices are located in the state-of-the-art Outpatient Pavilion on our main campus in Farmington and in Southington.