The Division of Otolaryngology is dedicated to providing outstanding care to the citizens of Connecticut and the region. The Division has been helping patients in Connecticut for close to 50 years. We do this in collaboration with our research and clinical colleagues, making cutting-edge techniques and technologies available to our patients.
Patient Care
We have expertise in caring for patients with any condition affecting the ear, nose, and throat, such as those with hearing and balance issues, thyroid and parathyroid disorders, head and neck cancer, voice disorders, and nasal and sinus disease to name a few. Our group of dedicated practitioners is driven to provide each patient with the best care possible in an atmosphere of collaboration and education.
Residency
The Otolaryngology Residency Program has been producing ENT physicians for decades, and many of our graduates remain in the state to continue caring for our population. The 5-year program has a national reputation and is a highly desired program for medical students around the country.
Research
Research activity is a vital component of any academic institution. The Division of Otolaryngology is involved in multiple areas, working in collaboration with our Neuroscience Department, The Jackson Laboratory, and UConn Storrs departments such as Bioengineering. Our residents have earned national honors and awards for their research efforts. The research conducted here helps medicine get closer to answering many clinical questions that still need solutions.
Thank you for choosing UConn Health for your ENT care.
Sincerely,
Denis Lafreniere, M.D.
Professor and Chief
Division of Otolaryngology
Department of Surgery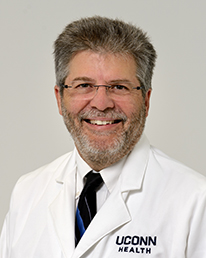 Denis Lafreniere, M.D.
Professor and Chief
Division of Otolaryngology
Department of Surgery