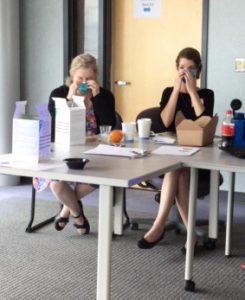 Date: Thursday, July 23, 2015
Time: 1:00 PM – 4:30 PM
Location: Savin Rock Conference Center, 6 Rock Street, West Haven, CT 06516
Som​e people who helped with clean up after Hurricanes Katrina and Sandy reported developing breathing difficulties. Our current work ​at the UCONN Health Center ​is focused on better understanding this problem and providing education so hurricane response and rebuilding workers and home occupants  will improve their preparation and reduce exposures from respiratory exposures.
The training  on July 23 focused on how individuals can protect themselves and others from biological exposures that affect respiratory illness when working in flooded buildings, and how to rebuild buildings more resilient to future storms.
Three professionals from diverse, but complementary perspectives presented at the workshop. They are: Bill Turner, MS, PE, LEED AP, founder of Turner Building Science, LLC and a national expert on the dynamics of moisture in buildings; Paul Bureau MS, CIH expert consultant on Occupational Safety and Health, teaches at the University of Connecticut and has managed healthy and safety for major corporations; and Paula Schenck MPH , the director of indoor environment and health programs at UCONN Health and has held national workshops on mold and moisture in the environment for health providers and public health professionals.
Who attended:
Public health, environment, and housing professionals
Hurricane response and recovery workers, construction workers
Volunteers and home occupants in areas affected by flooding
Individuals working on resiliency and healthy homes programs
Hurricane and disaster responders and planners
Learning Objectives:
Health concerns associated with mold exposure
How to protect yourself and others when exposed to mold damage caused by severe weather
How to rebuild resilient buildings that support the health of the community