Planning Specialist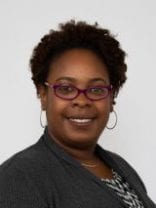 Trisha is a co-lead for the Collaborations, Community Engagement & Technical Assistance Core. Her role is to outreach to stakeholders, agencies, and communities that are interested in fostering partnerships in eliminating health disparities, advancing health equity, and planning programs that increase better health outcomes for disadvantaged groups.
Trisha has over ten years of experience managing programs with a strong focus in community engagement, health disparities, education, and research. Proficient in project management, auditing programs, organizational oversight, grant and contract administration, and communications.
Trisha volunteers for community events, especially those related to increasing the pipeline of underrepresented minorities in STEM.  She is passionate about social justice issues related to Hartford and looks forward to making connections that will lead to solutions.