Monitoring local, state, and federal health and healthcare policies and preparing policy and evidence briefs | Designing, implementing, and monitoring HDI digital and social media strategies
HDI's Policy Core translates Research Core findings into policy action; distills national and state policy changes with implications on health equity into policy briefings for community-based Capacity Building, and convenes, facilitates, and participates in collective policy action to eliminate health disparities in the state of Connecticut. HDI's university-community policy advisory committee will establish health equity centric principles for policy action that enable HDI's fulfillment of its statutory authority and achievement of its mission while ensuring consistent, logically integrated efforts.
Telebehavioral Health Access & Services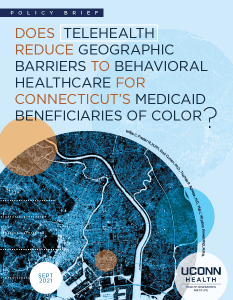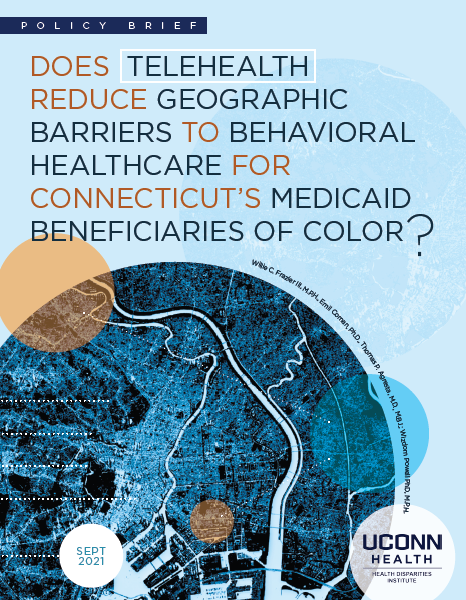 Due to several policy provisions in response to the COVID-19 pandemic in CT, there was a decrease in behavioral health services and an increase in telehealth medicine. Across the U.S., behavioral heath gaps exist among Black Americans, but little is known about Black adult male Medicaid beneficiaries telemedicine behavioral health care utilization. HDI is investigating patterns of behavioral health services utilization among CT's Black adult male Medicare beneficiaries through the support of the Commonwealth Fund. Additionally, HDI is researching patterns of behavioral health services utilization among Black adult women beneficiaries and drivers of geographic differences in utilization and disparities.
Does Telehealth Reduce Geographic Barriers to Behavioral Healthcare for Connecticut's Medicaid Beneficiaries of Color?
Connecticut Clinical Care with Community Organizations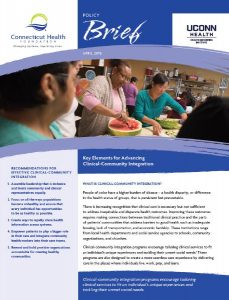 Best practices in connecticing clinical care with community organizations are exemplified in several states. Key drivers in health equity is connecting clinical and community care and generating health information technologies that are accessible and impactful for optimal care. Read further of the publications by The Connecticut Health Foundation and the Health Disparities Institute at UConn Health:
Key Elements for Advancing Clinical-Community Integration, written by Health Disparities Institute Director Wizdom Powell, PhD, MPH, provides an overview of the work and recommendations for designing effective models.
Clinical-Community Integration: The Role of Health Information Technology, written by Health Disparities Institute Associate Director Victor G. Villagra, MD, focuses on the importance of systems that allow clinical and community providers to communicate and share information about their shared clients.