Take advantage of this great opportunity! Intern at HDI!
The Health Disparities Institute (HDI) team invites you to join our health equity internship program! We are recruiting university students to intern within various core functions across HDI operations. You may have the opportunity to work in research, policy navigation, data analytics, or community engagement cores. This internship requires a commitment of 10 – 20 hours per week during the semester you wish to apply for, and may continue through the following semester (depending on the needs of the project). Students interested in health disparities, social justice and passion to achieve health equity for Connecticut residents are strongly encouraged to apply.
In exchange for services, interns will benefit from:
The opportunity to gain hands-on experience with our HDI Core researchers and professionals in: Data Analytics; Research; Community; Policy Navigation & Strategic Communications
The opportunity to support work that advances health equity in CT
The opportunity for acknowledgement in ensuing publications
The opportunity to participate in a student/ intern seminar with ongoing professional development opportunities
To Apply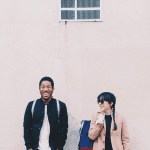 Submit a resume, contact information for at least one academic or professional reference, and a brief cover letter to uconnhdi@uchc.edu. Review of applications will begin immediately and will continue until the position(s) are filled.
"There is always something new to learn about at HDI..." "What I've learned is that interacting with peers can be beneficial ..."
About HDI
The UConn School of Medicine established the Health Disparities Institute (HDI) in 2011 as part of the Bioscience Connecticut Initiative to enhance research and the delivery of care to minority and underserved populations in the state. HDI advances health equity and reduces disparity to ensure that everyone in Connecticut has the fullest opportunity to experience good health and wellbeing.
We connect, support and serve residents and communities through individual, systems level and place-based strategies. We value social justice, youth input and the power of art to amplify community voice and disrupt single stories about the truly underserved.
Affirmative Action Statement
All applicants will receive consideration for internship without regard to race, color, sex, age, religion, national and ethnic origin, disability, sexual orientation, marital status, veteran status or any other protected class. The University is an Equal Employment Opportunity (EEO) and Affirmative Action employer (AA), Male (M), Female (F), Disabled (D), and Veteran (V). Women and minorities are encouraged to apply.