Health Insurance Advance
UConn's Health Disparities Institute launched a 5 year Health Insurance Advance (HIA) initiative with the goal of "enhancing the value of health insurance for the newly insured and in doing so improve their overall health and well-being".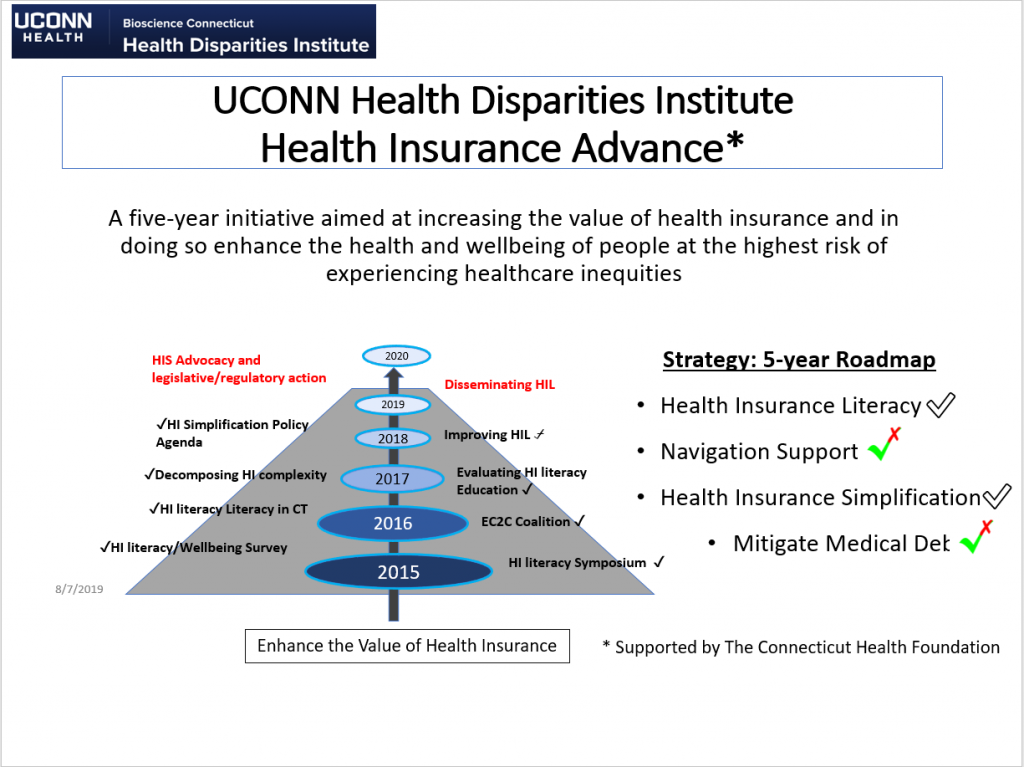 The Health Insurance Advance Initiative project is being implemented in two stages:
Years 1-3 measurably advances the level of health insurance literacy in high-risk populations and develop consumer support tools and health insurance coaching at the point of use.
Years 4-5 promotes policy changes aimed at simplifying health insurance designs. See more about the HIA Initiative and the Connecticut Equal Coverage To Care Coalition.
Dr. Victor Villagra presented four main findings from the Health Insurance Advance Initiative at in the Health Equity in CT Conference:
Low health insurance literacy leads to health and financial harms and healthcare disparities.
Competent health insurance navigation support is needed to overcome structural racial/ethnic disadvantages.
Commercial insurance products are unnecessarily complex, leading to patient errors and wasteful spending.
Medical debt is a silent crisis with lasting health and financial consequences for patients (and ethical dilemmas for physicians.
The "Health Equity in Connecticut What Does Health Insurance Have to Do with It?" presentation shares research findings and ways to mitigate healthcare inequities among Connecticut residents.
Health Insurance Literacy Research
People with private health insurance must have sufficient literacy skills to understand when, where, and how to access health services and avoid costly errors caused by using plan benefits incorrectly. Without adequate health insurance literacy (HIL), people can experience administrative hassles, delays in care, denials of coverage, and receive unexpected medical bills. Presently there is no information about the HIL of Connecticut citizens enrolled in private health insurance plans.
In response to the findings from the 2016 report, HDI, in collaboration with members of the Equal Coverage to Care Coalition (EC2C), developed and tested an educational program in English and Spanish aimed at improving understanding insurance terminology and concepts among people of color.
The program was implemented by five EC2C organizations* working in different communities throughout Connecticut. A total of 477 residents, 94% identifying themselves as a racial or ethnic minority participated in the pilot.
The current HIL program partially met consumer education needs but navigation support needs further development. The program contents, delivery and frequency of the Equal Coverage to Care Coalition HIL program needs to be expanded to address Medicaid and Medicare issues.
This report presents results from a 2016 survey measuring the HIL of 516 adult Connecticut residents enrolled in a qualified health plan (QHP) through Access Health CT.
The survey shows that some QHP enrollees struggle to understand basic health insurance terminology and how to use their benefits correctly. People with lower educational levels have lower HIL skills; however, when we compared the HIL in people with the same educational level, we found significant differences by race, ethnicity and language preference with Black and Hispanic enrollees having more difficulty than Whites. As more people enroll in private health insurance, widely disparate HIL should be viewed as a previously underappreciated but remediable source of healthcare disparity.
Developing solutions will require a coordinated state-wide strategy that should include insurance carriers, Access Health Connecticut, academia, providers, the state and community organizations. In the short run, HIL education and outreach programs must be deployed and tested to assess their effectiveness. Resources should focus first on decreasing the current racial/ethnic gap. Complementary strategies should include more and better in-person consumer support through trained "insurance coaches". In the long run access to simpler, more consumer-friendly health insurance plans could have the greatest impact in promoting health equity and enhancing the value of health insurance for all Connecticut citizens.