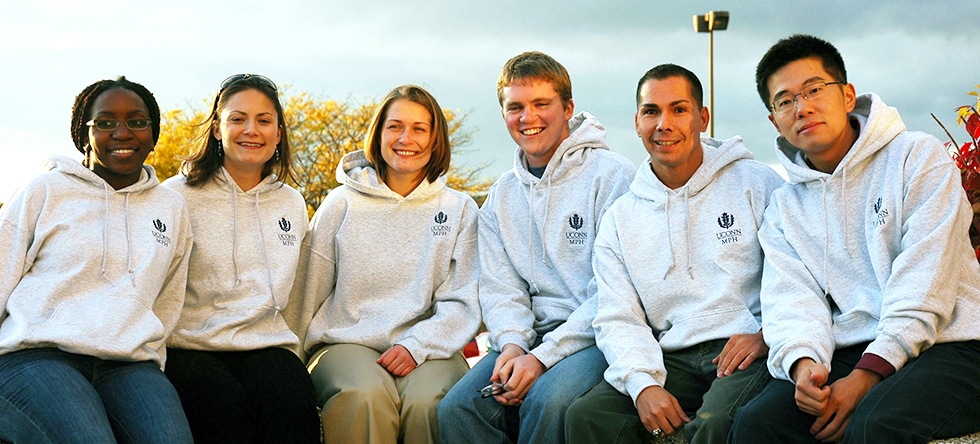 Our Vision
The UConn Graduate Program in Applied Public Health Sciences is an integral contributor to the effort to make Connecticut residents among the healthiest, most productive and satisfied of Americans.
Our Mission
To offer an exemplary academic environment that prepares interprofessional learners to achieve high standards of public health practice.
Our Values
As members of the public health community, we prioritize:
Population centric – putting public concerns and needs above persons or careers.
Evidence-based – utilizing the best available information to inform decisions and actions
Social justice – believing that wellness is a public good and fundamental right of all
Engagement – fostering reciprocal and equitable partnerships among stakeholders to share responsibilities for public health efforts
Teamwork – functioning across disciplines in order to achieve integrated, cohesive approaches to population concerns
Advocacy – increasing awareness and support for a robust, comprehensive public health agenda
Resolve – preparing life-long learners to address current and emerging public health challenges
Integrity – promoting high standards of objectivity and accountability in work and interpersonal relationships
Respect – incorporating differing beliefs, cultures and practices into all program activities
Our Programs
UConn has offered a Council on Education for Public Health (CEPH)-accredited Master of Public Health (MPH) degree since 1984. An MPH is awarded upon satisfactory performance in 16 courses, 48 credits, distributed among the program's required, elective, experiential and culminating requirements. Full-time students can complete the program in 2 years; part-time students will require 4 years. A full description can be found in the Program Handbook.
Foundational (i.e., required) curriculum:
Introduction to Interprofessional Public Health Practice
Health Administration
Public Health Law
Epidemiology & Biostatistics I
Public Health Research Methods
Social & Behavioral Foundations of Public Health
Environmental Health
Practicum in Public Health
Epidemiology & Biostatistics II
Electives curriculum (examples from recent years):
Epidemiology:
Infectious Disease Epidemiology
Intermediate Epidemiology
Public Health Issues in Genetics
Epi of Substance Abuse Disorders & Psychiatric Co-Morbidities
Chronic Disease Control
Epidemiology of Disabilities
Environmental health:
Environmental Health and Ethical Decision-Making
Occupational & Environmental Epidemiology
Social sciences:
Health Education
Food, Health and Politics
Social Inequality and Health Disparities
International Health
Public Health Nutrition
Foundations of Public Health in Disabilities
Quantitative methods:
Critical Reasoning in Design of Population Health Research
Biostatistical Methods in Clinical Research
Topics in Intermediate Biostatistics
Law and ethics:
Human Rights and Health
Disability Law, Policy, Ethics and Advocacy
Public Health Ethics
Health administration:
Foundations of Public Health and Disability
Public Health Agencies
Women, Public Health and Reproduction
Comparative Health Systems
Alcohol and Drug Policy Research
Public Health and Policy in an Aging Society
Health Program Evaluation
Dual degree opportunities are available for students pursuing professional degrees in medicine (M.D./M.P.H.), dental medicine (D.M.D./M.P.H.), law (J.D./M.P.H.), social work (M.S.W./M.P.H.) and pharmacy (Pharm.D./M.P.H.).
A FastTrack (4+1 B.A./B.S.-M.P.H.) option is available for qualified undergraduates. Participants complete their baccalaureate degrees in any UConn-approved discipline and the MPH degree within 5 years of their initial matriculation as undergraduates.
Graduate Certificates, based on 12 credit requirements, are available for persons who do not desire to complete the MPH degree.
Certificate in Foundations of Public Health – Introduction to the core disciplines of public health for individuals seeking to augment their knowledge and perspective in in-depth understanding of issues and opportunities in population health.
Certificate in Addiction Science – Covers essential topics about epidemiology, clinical services, and policy research on alcohol and substance abuse.
Certificate in Interdisciplinary Disability Studies in Public Health – Examines aspects of health care, culture, politics, economics, and beliefs that impact people living with disabilities.
Certificate in Social Determinants of Health and Disparities – Considers the social origins of inequality in modern society and the opportunities to reduce gaps of opportunity and experience across population groups.
Why Choose UConn?
Public health careers for the 21st century will require competence in the interprofessional coordination of skills relevant to systems-level improvements to our environment and social structure.  You can join students, alumni and faculty who are at work shaping our public health system and services. When thinking about public health around Connecticut, it's hard to exaggerate our program's influence. Our alumni and faculty are found in various positions across the university throughout the state and nation. Graduates hold positions as:
health directors and staff in state, local, and federal health departments
managers of community health, social service, and nonprofit organizations
managers and scientists of pharmaceutical firms, health insurance companies, and hospital systems
educators and researchers
community-based physicians
public policy advocates
Challenge Yourself
Here at UConn, you'll find a curriculum that challenges you to consider your role in shaping health services and the environment to benefit health and well being. An experienced, engaging faculty will provide you with ample opportunity to pursue scholarship and service learning activities where you'll acquire skills needed for leadership in the public health field.