Welcome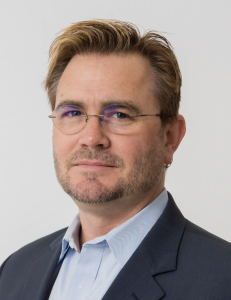 Welcome to the Department of Genetics and Genome Sciences. Created in 1998, the department offers many exciting opportunities for research and graduate education. The department is located in the state-of-the-art Cell and Genome Sciences Building. The department is also the academic home of the Division of Medical Genetics which provides clinical and laboratory genetics services to Connecticut. Our research strengths include RNA biology, developmental biology, signal transduction, and the genetic and epigenetic mechanisms of gene regulation. We are continually increasing external funding for our current research programs, enhancing the national and international reputation of our faculty and their research, and recruiting outstanding faculty members with new and complementary areas of research expertise. We also have a close working relationship with the Jackson Laboratory for Genomic Medicine (JAX-GM), and most JAX-GM faculty have academic appointments in our department. 
Dr. Brenton R. Graveley, Professor and Chair of Genetics and Genome Sciences, UConn School of Medicine, and Endowed Chair, Genomics and Personalized Healthcare; Director, UConn Stem Cell Institute and Associate Director, Institute for System Genomics, University of Connecticut.
The Mind of a Worm in All Its Rich Complexity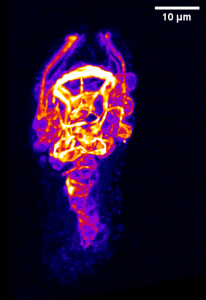 William A. Mohler and members of the WormGUIDES consortium have used big data analysis tools (typically applied to functional genomic and proteomic studies) to discern hidden structures within the brain of the model organism C. elegans.   (Read More..)
Building a Brain (MBL, University of Chicago)
Scientists reveal a precise structure in a fabled worm's tangled brain (StatNews)
Faculty Receives R13 Award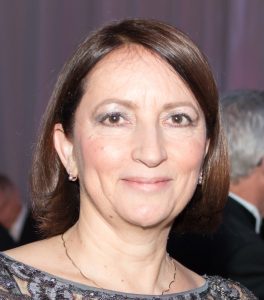 Dr. Rogina's MPI application received an R13 award from the National Institute of Aging. This award will defer the cost for the Biological Sciences Program of the Gerontological Society of America Annual Scientific Meeting, to be held in Phoenix, AZ, November 10-14, 2021. (More Information..)
Dr. Rogina leads the Biological Section Scientific Program workgroup of this meeting. The meeting will showcase the latest advancements in gerontological research. Congratulations Dr. Rogina!

Student received the 2021 Milton B. Wallack Trainee Award for Excellence in Stem Cell Research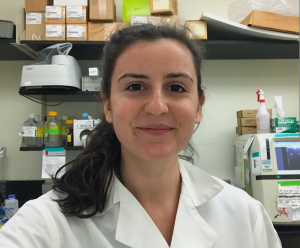 Dea Gorka, PhD candidate studying in Dr. Stormy Chamberlain's lab received the mentioned award at the StemConn2021 virtual meeting April 1 and 8, 2021.
Dea's research focuses on gaining a better understanding of how the interaction between UBE3A-ATS and UBE3A leads to imprinting of UBE3A on the paternal allele in chromosome 15q11-13 in order to learn more about Angelman syndrome (AS) and discover novel therapeutic options for these patients. AS is a neurodevelopmental disorder characterized by motor dysfunction, intellectual disability, severe seizures, absent speech, and a happy demeanor. AS is caused by loss of function from the maternally inherited allele of UBE3A. In most cell types, UBE3A is expressed from both the maternal and paternal alleles. In mature neurons, UBE3A is only expressed from the maternally-inherited allele. Thus, loss of function from the maternal allele leads to nearly complete loss of UBE3A RNA and protein. Imprinted (maternal-only) expression of UBE3A occurs because the paternal allele of UBE3A is silenced by a long non-coding antisense RNA, termed UBE3A-ATS. Activation of paternal UBE3A through the suppression of UBE3A-ATS transcription is a promising therapeutic strategy for AS, however the exact mechanism underlying UBE3A imprinting by UBE3A-ATS is not fully understood. This research uses patient-derived human iPSCs and their neural derivatives to carefully dissect the mechanisms by which UBE3A-ATS silences paternal UBE3A and how antisense oligonucleotides (ASOs) unsilence paternal UBE3A. (StemConn2021)

Congratulations Dea!