Welcome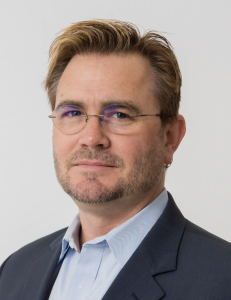 Welcome to the Department of Genetics and Genome Sciences. Created in 1998, the department offers many exciting opportunities for research and graduate education. The department is located in the state-of-the-art Cell and Genome Sciences Building. The department is also the academic home of the Division of Medical Genetics which provides clinical and laboratory genetics services to Connecticut. Our research strengths include RNA biology, developmental biology, signal transduction, and the genetic and epigenetic mechanisms of gene regulation. We are continually increasing external funding for our current research programs, enhancing the national and international reputation of our faculty and their research, and recruiting outstanding faculty members with new and complementary areas of research expertise. We also have a close working relationship with the Jackson Laboratory for Genomic Medicine (JAX-GM), and most JAX-GM faculty have academic appointments in our department. 
Dr. Brenton R. Graveley, Professor and Chair of Genetics and Genome Sciences, UConn School of Medicine, and Endowed Chair, Genomics and Personalized Healthcare; Director, UConn Stem Cell Institute and Associate Director, Institute for System Genomics, University of Connecticut.
Upcoming Seminars
March 30, 2023 (12 p.m.)
Speaker: Yingqun Huang, M.D., Ph.D.
Home Institution: Yale University, Department of Obstetrics, Gynecology & Reproductive Sciences
Title: Overcoming a TET offensive in multiple diseases

April 20, 2023 (12 p.m.)
Speaker: Eric Wagner, Ph.D.
Home Institution: UConn Health, Genetics and Genome Sciences
Title: Integrator is a Promoter-Proximal Termination Complex Critical for Transcriptional Control
April 27, 2023 (12 p.m.)
Speaker: Sam Sternberg, Ph.D.
Home Institution: Columbia University, Department of Biochemistry and Molecular Biophysics
Title: Discovery and development of CRISPR-associated transposases
Sara Olson Receives RNA Society Outstanding Career Researcher Award
The RNA Society Outstanding Career Researcher Award recognizes the exceptional contributions of career research scientists in advancing the field of RNA. The 2023 award goes to Sara Olson, who has been a key member in the laboratory of Dr. Brenton Graveley for 21 years and has contributed to 38 published papers. During her career, she has spearheaded a number of important discoveries spanning a wide variety of RNA biology, including the alternative splicing mechanism of the Dscam gene, the characterization of recursive splicing and circular RNAs in Drosophila, the processing of CRISPR RNAs from a multi-cistronic precursor, and extensive characterization of the Drosophila and human transcriptomes as part of the modENCODE, ENCODE and ENCORE collaborative projects. In addition to making key scientific contributions in the Graveley lab, Ms. Olson oversees the DNA sequencing and ancillary equipment within the department, and is responsible for training all personnel on the use of the equipment.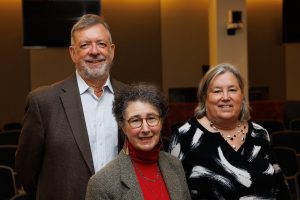 Moderna Vax Creator Receives the Herbert & Esther Bennett Brandwein Award in Genetic Research
It's fitting that a lecture series named for a family affected by genetic issues featured the scientist who led the development of Moderna's COVID-19 vaccine. The UConn Foundation and the Department of Genetics and Genome Sciences welcomed Melissa J. Moore, Moderna's chief scientific officer, to campus on September 30, to receive the 2022 Herbert and Esther Bennett Brandwein Award and give her talk, "mRNA as Medicine." Read more about the visit and the philanthropy that made it possible.
Researchers to Expand the Encyclopedia of RNA
The National Human Genome Research Institute has awarded genomics expert Brent Graveley and his team $5.6-million to continue to work on an enormous encyclopedia of human RNA molecules and the proteins that bind to them. The grant is jointly awarded to Graveley and Gene Yeo of the University of California, San Diego. Read more.