Welcome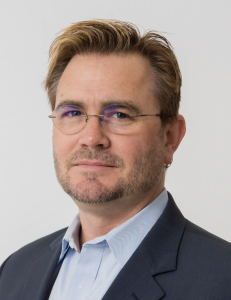 Welcome to the Department of Genetics and Genome Sciences. Created in 1998, the department offers many exciting opportunities for research and graduate education. The department is located in the state-of-the-art Cell and Genome Sciences Building. The department is also the academic home of the Division of Medical Genetics which provides clinical and laboratory genetics services to Connecticut. Our research strengths include RNA biology, developmental biology, signal transduction, and the genetic and epigenetic mechanisms of gene regulation. We are continually increasing external funding for our current research programs, enhancing the national and international reputation of our faculty and their research, and recruiting outstanding faculty members with new and complementary areas of research expertise. We also have a close working relationship with the Jackson Laboratory for Genomic Medicine (JAX-GM), and most JAX-GM faculty have academic appointments in our department. 
Dr. Brenton R. Graveley, Professor and Chair of Genetics and Genome Sciences, UConn School of Medicine, and Endowed Chair, Genomics and Personalized Healthcare; Director, UConn Stem Cell Institute and Associate Director, Institute for System Genomics, University of Connecticut.
Quick Links
Tenure-Track Faculty Position
The Department invites applications for a tenure-track faculty position at the Assistant/Associate Professor level (position #2019-069). Successful applicants will have the opportunity to participate in a highly interactive culture within the department, with our close colleagues at The Jackson Laboratory, and the UConn Institute for Systems Genomics. The ideal candidate is expected to complement existing strengths in the department with an robust research program focused on a cutting-edge area of contemporary genetics and/or genomics. Areas of interest include, but are not limited to single-cell genomics, RNA genomics, epigenetics, genome editing and engineering, synthetic genomics, genome technology, and computational genomics.
Se-Jin Lee and Mighty Mice in Space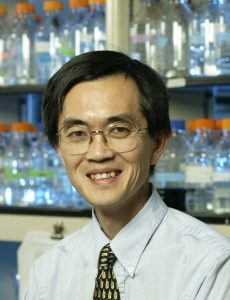 Presidential Distinguished Professor Se-Jin, a leader in the study of muscle development, received a grant from the Center for the Advancement of Science in Space to conduct experiments on Mighty Mice, genetically engineered mice that lack myostatin, on the International Space Station (ISS). Read more of the story here: Mighty Mice in Space
School of Medicine Faculty Spotlight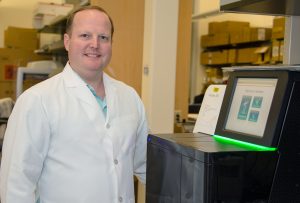 Congratulations to Dr. Justin Cotney for being chosen as this month's featured researcher in the Spotlight.  Dr. Cotney's lab is interested in understanding how gene expression is regulated by distantly located sequences during development. We aim to understand how such gene regulatory sequences arise and evolve, how they locate their target genes over long distances on the same chromosome, and how defective regulatory sequences contribute to human disease (read more).
Extension Educator Screens CT Newborns for Metabolic Disorders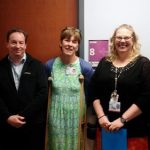 Extension Educator Sherry Gray divides her time between educational outreach in community nutrition and clinical nutrition, where she works with patients who have metabolic disorders. As a faculty member in UConn Extension, she provides programs in food and general nutrition and supervises the federally funded Expanded Food and Nutrition Education Program for Hartford County, helping low-income families learn about healthy eating, shopping on a budget, cooking and physical activity. And, funded by the Connecticut Department of Public Health and the Connecticut Children's Medical Center, Gray tracks and treats metabolic disorders in Connecticut newborns. (read more)
Precision Medicine World Conference Speaker Spotlight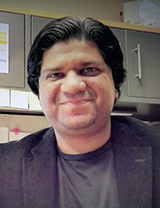 Dr. Zeeshan Ahmed's research is focused on the development of intelligent big data analytics platforms to improve the quality and transition of healthcare for investigating heterogeneous clinical data to obtain actionable care gap-based information about patients for early detection and prevention of constitutional disorders and cancer, and developing efficient communication across healthcare units and scientific labs (interview link).
Next Generation Venture Capitalist Training at UConn School of Medicine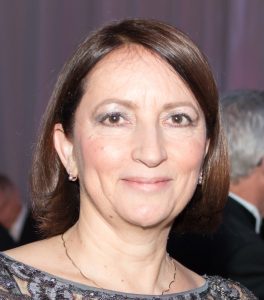 Blanka Rogina, Ph.D., was appointed by Dr. Bruce Liang, Dean of the UConn School of Medicine, to Chair the UConn-Canaan Fellowship Program Committee. This program provides our students hands-on training for real life, venture capital projects. (read more)