Moira Renee Agcaoili
Undergraduate Student
Phone: 860-679-4204
Email: moira_renee.agcaoili@uconn.edu
I am an undergraduate student researcher currently pursuing a B.S. in Physiology and Neurobiology with a French minor. I joined the Dodge-Kafka lab in my senior year of high school and worked on an independent project through which I received my first hands-on experience in a research lab setting. During my time at UConn, I also worked as a lab technician and developed my technical skills in different staining protocols and fluorescent microscopy. As part of my ongoing UConn Honors thesis, I currently use various beta blockers and mAKAP-specific reagents to understand the mechanism in which nuclear beta-adrenergic receptors mediate cardiomyocyte apoptosis via the mAKAP scaffold protein.
Sofia Marie Possidento
Ph.D. Biomedical Science Student
Phone: 860-679-4204
Email: possidento@uchc.edu
I am a second year biomedical science PhD student in the Dodge-Kafka lab. I graduated with a B.S. in biomedical science from Quinnipiac University, where I minored in microbiology and immunology. I also have a M.S. in biomedical science from Quinnipiac, where I did my Master's thesis on the role of MYC and YDJC in breast cancer progression. Here in the Dodge-Kafka Lab, I study perinuclear ryanodine receptor mediated calcium release around the scaffold protein mAKAP. In our lab, I use novel peptides localized to mAKAP with various microscopy techniques to investigate the source of calcium that drives calcium mediated gene transcription to uncover the molecular mechanism behind cardiac hypertrophy. 
Moriah Turcotte
Post Doctoral Fellow
Phone: 860-679-1362
Email: mturcotte@uchc.edu
As a University Post Doctoral Fellow in the Dodge-Kafka Lab, my main project concerns the role of perinuclear beta-adrenergic receptors in cardiac hypertrophy. I received my Ph.D. in 2021 at UConn Health where I began this project, and also published on mAKAP regulated perinuclear calcium transients required for cardiac hypertrophy. I received my BS in Biology with Honors from the University of Saint Joseph in West Hartford, CT. I joined the Dodge-Kafka Lab in 2013 for my senior undergrad capstone project, which concerned mAKAP-dependent PKA activity and led to a lab technician position. My practical expertise lies in live-cell imaging and FRET technology, as well as cardiomyocyte isolation and culture.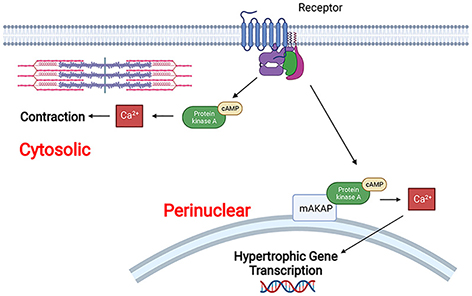 Former Members
Kristen Tokarski: MD/PhD student, UConn medical school
Shania Aponte Paris: Master's mentor (2016-2019), as part of the YIIP program at UConn Health.  Currently in Medical School in Puerto Rico at San Juan Bautista.
Akilah Plair: Master's mentor (2014-2016), Akilah is part of the YIIP program at UConn Health.  4th Year Naturopathic Medical Student at University of Bridgeport.
Marc Rigatti - PhD mentor (2012-2015).  Graduated from UConn Health MD/PhD program.  Emergency Physician at UConn Health.
Arpita Singh - PhD mentor (2008-2013).  Clinical Trial Manger at Oticon Medical AB.
Andrew Le - PhD mentor (2008-2013).  Currently in Physician Scientist School at Yale University.
John Redden - PhD mentor (2008-2013).  Associate Professor-in-Residence at UConn, Department of Physiology and Neurobiology.
Maximilian Vargas - PhD mentor (2007-2012). Senior Director for US Access Strategy.