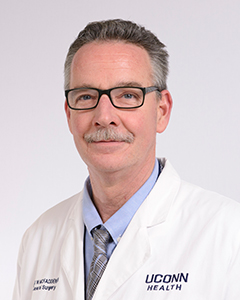 As the Murray-Heilig Chair in Surgery at UConn Health, I welcome you to our website. The Department of Surgery is dedicated and committed to providing the best and most innovative surgical care in a "patient first" environment, performing cutting edge basic science and translational research, and serving as the premier educational environment for the training of tomorrow's surgeons.
The Department of Surgery comprises nine divisions: Cardiothoracic Surgery, General Surgery, Neurosurgery, Ophthalmology, Otolaryngology, Plastic Surgery, Surgical Research, Urology, and Vascular Surgery. Each division is an epitome of modern clinical care.
In addition to our commitment to provide the finest in patient care, we place a major emphasis on science and scholarship. Research programs accompany all of our clinical activities, and trainees in our residency program are encouraged to take time off to participate in basic and translational research. The Department has 10,000 square feet of dedicated research space in which to conduct scientific studies.
Currently the Department of Surgery has over 40 full-time faculty members participating in teaching, research, and clinical activities at UConn and its major affiliated hospitals, more than 100 voluntary faculty, and fully accredited residencies in general surgery, urology, otolaryngology, and vascular surgery. More than 80 medical students are trained annually in our didactic courses and on clinical rotations.
We hope you find the information on this website helpful and invite you to learn more about our outstanding programs.
David W. McFadden, M.D., M.B.A., FACS
Professor and Chair, Department of Surgery
Murray-Heilig Chair in Surgery