At UConn Health, a team of experts provides fast, efficient care for patients experiencing symptoms of stroke and personalized, ongoing care for patients who have already experienced a stroke or have other risk factors.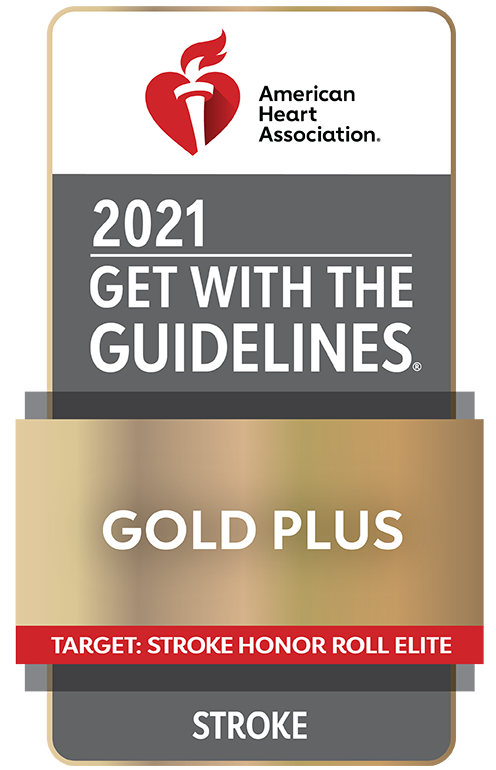 Gold Plus Recognition
Our commitment to quality stroke care is being recognized by the American Heart Association/American Stroke Association. We've been honored with the Get With The Guidelines® Stroke Gold Plus and Target: Stroke Honor Roll Elite Award which means we reached an aggressive goal of treating patients with 85 percent or higher compliance to core standard levels of care for two consecutive years. The recognition also takes into account the administering of clot-busting treatment for ischemic stroke patients within 60 minutes of arrival at the hospital more than 75 percent of the time, dramatically improving patient outcomes. Read more.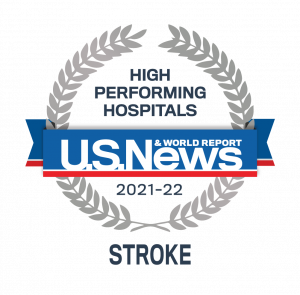 High Performing Hospital - Stroke
UConn John Dempsey Hospital has been recognized in U.S. News & World Report's Best Hospitals 2021-22 rankings as a high-performing hospital for stroke. The score is based on data on patient survival, volume, discharge to home, and more. John Dempsey received the highest score for survival rate and discharging patients directly to home. Both are significantly better than the national average.
Rapid, Comprehensive Stroke Care at UConn Health
Every minute counts when you suffer a stroke. At UConn Health, our team is trained in the latest procedures and technology, ensuring you receive a rapid response and coordinated care for your stroke recovery.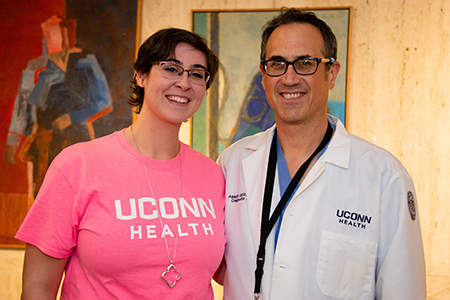 I'm 30 and a Stroke Survivor
Stroke survivor Andrea (Drea) Wall recounts her experience at UConn Health's Emergency Department after having an ischemic stroke at the age of 30. She discusses what she learned and what you can do to increase your chances of a favorable outcome after a stroke. Read more.
Listen to Drea tell her story during the Stroke Survivor Symposium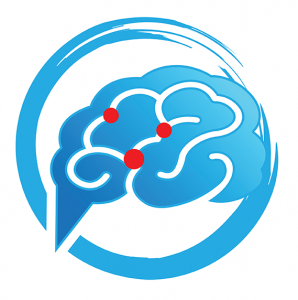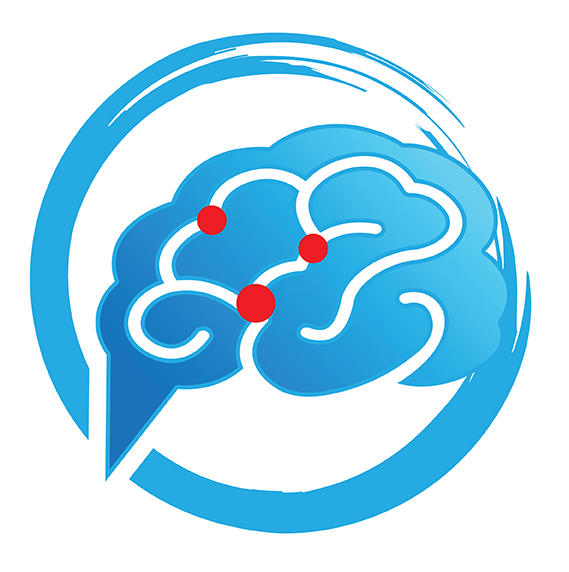 3rd Annual Stroke Survivors Symposium
When: October 28, 2021
Time: 5 to 7 p.m.
Where: Virtual
Advanced Registration Recommended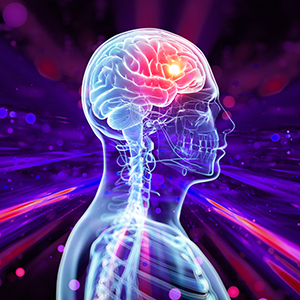 Emergency Stroke Care Conference
Emerging Therapies in Acute Stroke Care
When: June 10, 2021
Time: 8 a.m. to 4 p.m.
Where: Virtual
Free Academic Conference
UConn Health Minute: Reversing Stroke Risk
UConn Health Minute: Surviving a Stroke
Stroke Survivor Returns for Promised Dance with His Nurse
Power of Possible: Fast Stroke Care
Stroke Survivor Bruce Regains Ability to Play Guitar
Complete Stroke Care at UConn Health: Martha's Road to Recovery
Stroke and the Need to BE FAST
Jennifer Sposito, Clinical Coordinator, and Brooke Medel, Nurse Navigator
Know Stroke
Brooke Medel, Nurse Navigator