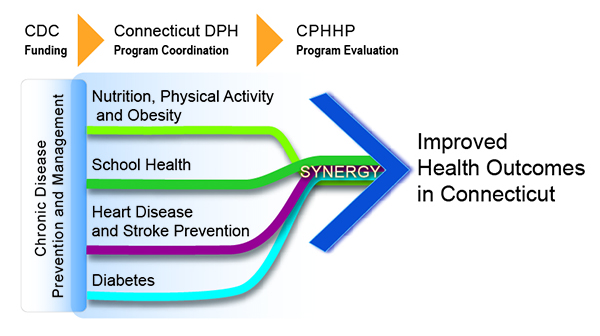 The purpose of the grant is to reduce risk factors associated with childhood and adult obesity, diabetes, heart disease and stroke. The grant is organized around four public health principles, or "domains": 1) epidemiology, 2) environmental approaches, 3) health care system interventions, and 4) community program-clinical services links. The CDC has developed several strategies to implement each of the four domains in four categorical program areas (nutrition, physical activity and obesity; school health; heart disease and stroke prevention; and diabetes). Pursuant to the grant, CT-DPH coordinates activities among many programs that address differing aspects of chronic disease prevention or management.
The project team is conducting the program evaluation. The process evaluation component focuses on determining whether the collaboration of DPH and partners from the different areas have an effect on the partners' abilities to address the issues in their individual chronic disease prevention programs. The evaluation also tracks programmatic activities and identifies facilitators and barriers to implementing programs for each of the following four key strategies, one in each area:
Physical Education and Physical Activity in Early Care and Education (Nutrition, Physical Activity and Obesity)
Physical Education and Physical Activity in K-12 Schools (School Health)
Health Care Extenders in the Community in Support of Self-Management of High Blood Pressure (Heart Disease and Stroke Prevention)
Diabetes Self-Management Programs in Community Settings (Diabetes)
Project Team
Ann Ferris, Ph.D., RD
Sara Wakai, Ph.D.
Eric Horan, JD, MPA
Erin Havens, MPH, MPA
Dotty Wakefield, MS
Project Partners
Department of Public Health
State Department of Education
State Department on Aging
UConn School of Pharmacy
Area Agencies on Aging
Connecticut Community Care, Inc.
Resources
Nutrition, Physical Activity, and Obesity Prevention Program
Whole School, Whole Community, Whole Child
Heart Disease and Stroke Prevention Program