Community Engagement
Husky Smart Shopping
Grocery Store Nutrition Education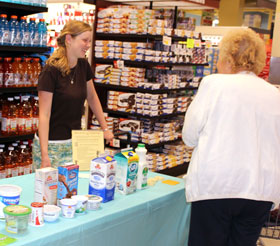 Through Husky Nutrition's Husky Smart Shopping program, Registered Dietitians provide in-store tours and nutrition education at grocery stores and retail food outlets throughout Connecticut.  Tour participants learn hands-on skills to help them buy healthy foods on a budget.
Participants learn how to:
Choose high quality and great tasting fruits and vegetables, fresh, frozen and canned.
Read food labels and determine key ingredients
Compare unit prices to get the best value from their food dollars
Identify whole grains, low-fat dairy foods, and lean proteins in accordance with the USDA MyPlate eating plan
For participants who do not have transportation, or when participants have physical limitations that prohibit them from participating with the in-store tours, grocery store nutrition education sessions may alternatively be delivered at housing sites and community centers using hands-on learning activities, videos and virtual tours.
For recipes, online grocery tours, and healthy tips, visit SNAP4CT.org.
Farmers Market Nutrition Education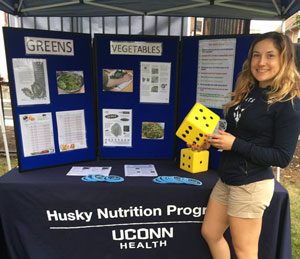 Farmers markets play a vital role in connecting Connecticut residents with fruits and vegetables grown in their local communities. This role is particularly important in neighborhoods where residents have limited access to large grocery stores and fresh fruits and vegetables.
Husky Nutrition educators provide nutrition information at farmers markets where SNAP/EBT and/or WIC benefits are accepted. Nutrition educators engage with market-goers through the use of display boards and interactive activities promoting healthy eating. Activities and messages emphasize how to select and prepare fruits and vegetables as well as food safety tips. The goal is to provide practical information that will promote healthy behaviors.
To find your local farmers market in Connecticut, visit https://www.snap4ct.org/ct-farmers-markets-929652.html
Health Fairs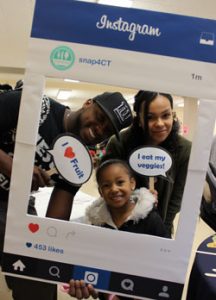 Husky Nutrition staff collaborate with community agencies, local health departments and other community groups to provide nutrition education and outreach at health fairs in Connecticut. Nutrition educators deliver key nutrition messages to health fair participants. Educators use display boards and interactive activities and games to deliver nutrition information and to promote healthy eating and physical activity behaviors.
---
Husky Nutrition is funded by the USDA Supplemental Nutrition Assistance Program (SNAP-Ed). The Supplemental Nutrition Assistance Program (SNAP) provides nutrition assistance to people with low income, so they can buy nutritious foods for a better diet.