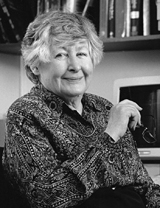 September 24, 1927–January 17, 2019
Mary Jane Osborn, Ph.D., was a professor of microbiology in the Department of Molecular, Microbial and Structural Biology at the University of Connecticut School of Medicine. Dr. Osborn received numerous honors over her long career, including election to the National Academy of Sciences in 1978 in recognition of her research contributions to biochemistry. Her chief research interest was mechanisms of bacterial cell division.
Dr. Osborn received a bachelor's degree in physiology from the University of California at Berkley in 1948 and earned her doctorate in biochemistry from the University of Washington in 1958. She completed a postdoctoral fellowship in microbiology at New York University College of Medicine in 1961 and was appointed assistant professor there in 1962. From 1963 until 1968, she was assistant and then associate professor at Albert Einstein College of Medicine.
Dr. Osborn joined the faculty of the University of Connecticut School of Medicine as full professor in 1968, becoming one of a cadre of first faculty who shaped the curriculum and character of the new institution. From 1980 until 2002, she headed UConn's Department of Microbiology.
Dr. Osborn's honors and distinctions included fellowship in the American Academy of Arts and Sciences (Council, 1988-92); the Chancellor's Distinguished Lectureship at the University of California, Berkley (1982); fellowship in the American Academy of Microbiology (1992); and service on the National Institutes of Health Advisory Council, Division of Research Grants (1989-94, chair: 1992-94). She served on numerous editorial boards and advisory councils. From the mid-1990s through 2008, she worked with the National Research Council and NASA on projects related to lunar and space exploration. She also published more than 80 articles in professional journals.