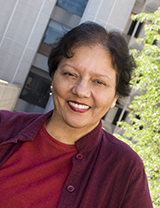 Amala Guha, Ph.D., M.P.H., M.A., received her doctorate in immunology and a graduate degree in public health. She completed her fellowship training in transplantation immunology (bone marrow and cytokines) on an NIH training grant in the Division of Hematology/Oncology at the UConn School of Medicine. She trained at Bombay and Pune School of Ayurvedic Medicine. Dr. Guha is a fellow of Leukemia Society of America.
Since retiring from her office as an assistant professor of immunology and medicine, she is now serving as adjunct assistant professor of immunology and the program director of Complementary and Alternative Supportive Care (CASC) at the UConn School of Medicine.
Dr. Guha's expertise in cancer and transplantation immunology and her training in Ayurvedic medicine including herbs, bring a unique blend of understanding in the field of integrative medicine. She lectures and conducts workshops and has been a reviewer for the National Center for Complementary and Alternative Medicine (NCCAM/NIH).
Dr. Guha is the editor-in-chief for the journal of "ELEMENTS: Ayurveda, Health and Nutrition." She is internationally known for her pioneering work in developing Ayurvedic medicine programs in U.S. medical schools.
For more information, visit www.ayurvedahealth.org or email aguha1@att.net.
List of Recent Presentations by Dr. Guha
October 10, 2006
Navigating Ayurveda from East to West: The Promises and Pitfalls
Harvard Medical School, Osher Institute, Boston, MA
October 16 to 18, 2006
Ayurveda: From Classroom to Bedside and the Challenges Towards Ethical Delivery
Simple Conference, University of New Mexico, NM
November 18 to 22, 2006
Ayurveda in the United States
World Congress of Ayurveda, University of Puna, India
April 10, 2007
Ayurvedic Cleansing Practices: Lifestyle and Therapeutic Interventions
The Institute for the Advancement of Complementary Therapies, Phillips Ambulatory Care, NY
April 23, 2007
In Knowing the Unknown
Science and Consciousness Conference, Santa Fe, NM
September 12, 2007
Integrating Ayurveda in Healing and Wellness
Harold Leever Regional Cancer Center, Waterbury, CT
September 26, 2007
Complementary Alternative Medicine
UConn School of Medicine, Neag Comprehensive Cancer Center, Farmington, CT
September 27, 2007
The Ayurvedic Rasayana (Herbal Immunotherapy)
Department of Immunology, UConn Health, Farmington, CT
October 6, 2007
Applications of Ayurvedic Principles in Modern Medicine
Mayo Clinic, Rochester, MN
October 18 to 21, 2007
Ayurveda and Integrative Medicine
Ayurvedic Conference, Albuquerque, NM
November 1 to 2, 2007
Ayurveda in Cancer Treatment
TATA Memorial Cancer Center, Bombay, India