The small towns of Connecticut where more teenagers are having babies include the following:
Populations less than 35,000.
Killingly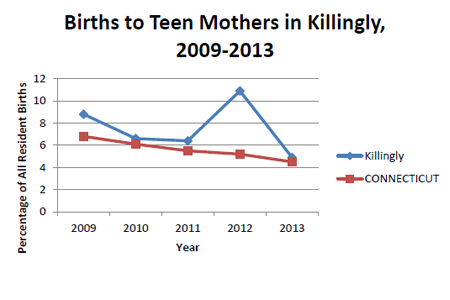 What does this data mean?
Compared to teens in the state as a whole, teens in Killingly have a larger proportion of births. From 2009 through 2013, proportionally, more teens in Killingly gave birth to children while still in their teens years compared to teens all around the state. This was true for each of the five years in this analysis. There is a need for teen pregnancy prevention services in Killingly.
New London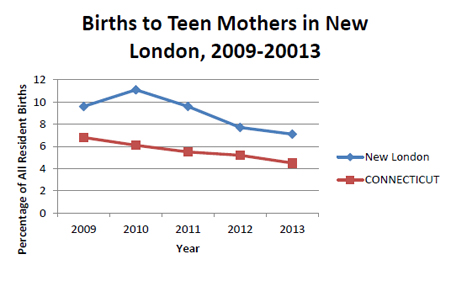 What does this data mean?
During the period 2009 to 2013, the pattern of adolescent childbearing in New London was worse than that seen in the state of Connecticut overall. For each of the five years included in this analysis, in New London the proportion of all resident births to teen mothers exceeded the statewide average proportion. These data indicate that there is still a need for teen pregnancy prevention services in New London.
Windham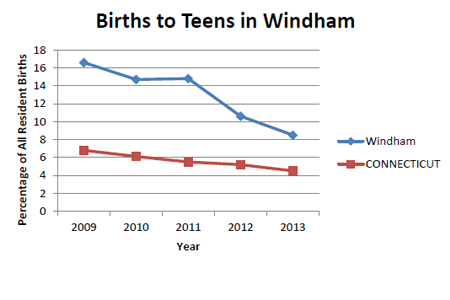 What does this data mean?
The community of Windham is notable in that despite its small population (around 25,000) the proportion of adolescent births relative to births to all mothers greatly exceeds the average proportion in Connecticut. In fact, from 2009 through 2013, the proportion of births to teen mothers in Windham was about double the proportion of teen births across Connecticut during this time period. Windham is clearly a community that would benefit from efforts to reduce teen pregnancy and adolescent childbearing.
Data for this analysis has been provided by the Connecticut Department of Public Health. Data from the Annual Registration Report Tables were used, courtesy of DPH. All data analysis was performed by the Family Planning Program, Department of Obstetrics and Gynecology, at UConn Health.