In 2011, Dr. Laurencin was elected to the prestigious National Academy of Engineering (NAE). Learn more
President Obama awarded Dr. Laurencin the 2010 Presidential Award for Excellence, which recognizes outstanding science, math and engineering mentors. Learn more
The American Institute of Chemical Engineers named Dr. Laurencin among the "100 Chemical Engineers of the Modern Era." Learn more
In 2009, Dr. Laurencin was awarded the American Institute for Medical and Biological Engineering's highest award, the Pierre Galletti Award. Learn more
Scientific American Magazine named Dr. Laurencin as one of the top 50 innovators for his groundbreaking technological work in the regeneration of knee tissue.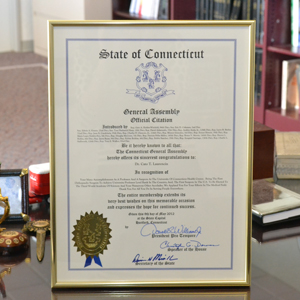 Recently, the State of Connecticut General Assembly awarded Dr. Laurencin with an official citation to recognize his many accomplishments as a professor and a surgeon at UConn Health. And for "being the first orthopedic surgeon to achieve university professor level rank in the country; and, the first surgeon in the U.S. to be elected to the Third World Academy of Sciences.