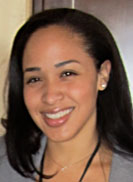 Keshia Ashe is one of my graduate students pursuing her Ph.D. in Chemical Engineering. Our paths crossed at the University of Virginia where she received her B.S. in Biomedical Engineering under the guidance of my former student, Dr. Edward Botchwey. I was really honored when she decided to move to Connecticut with me after finishing her undergraduate degree. Since joining my lab, she has explored her interests in bone and ligament regenerative engineering, controlled drug delivery, novel biodegradable biomaterials, nanotechnology, and biochemistry. In her four years as a graduate student, she has successfully published a book chapter on integrin-mediated cell adhesion, co-authored four highly cited publications in the new field of osteoinductive synthetic small molecules for bone regenerative engineering, and has begun to investigate the use of small molecules for ligament repair and regeneration. Specifically, Keshia's research interests include:
1. Investigating the signaling pathways involved in collagen production and degradation during anterior cruciate ligament repair.
2. Synthesis and characterization of the novel inorganic-organic polyphophazene polymer.
3. Development and evaluation of small molecule releasing nanofibrous matrices for enhanced anterior cruciate ligament regeneration.
In addition to her research activities, she actively contributes to the development of her colleagues and underserved youth population as the vice president of the Controlled Release Society (CRS) and as a mentor to 20 high school students within the UConn Health Career Opportunity Programs (HCOP). Furthermore, she recently started a non-profit organization, ManyMentors, which uses online video conferencing to connect women and minority high school students with college students in the science, technology, engineering, and math (STEM) fields. It has been a pleasure advising Keshia through her many research endeavors and serving as a role model for her youth-focused activities. I anticipate nothing but the best as she continues to make an impact on not only academia, but also on the social climate of STEM.
---