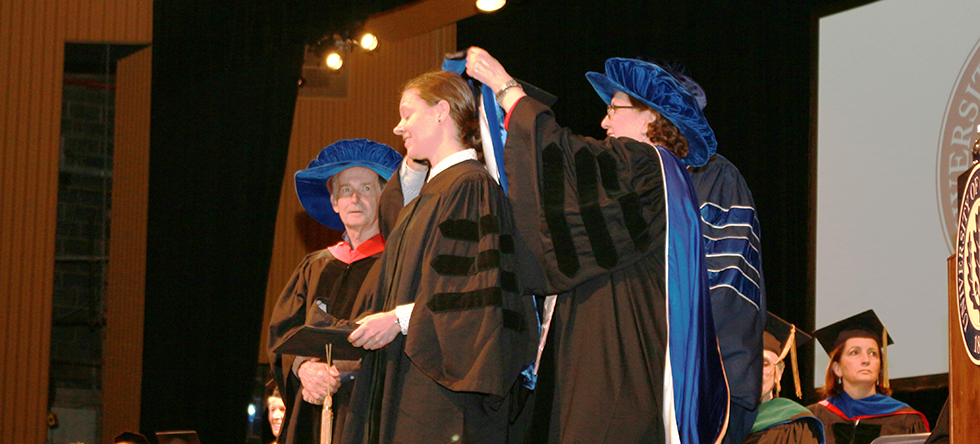 The primary educational goal of the Ph.D. in Public Health is to rigorously prepare public health professionals, scholars, and research scientists who will be needed in a wide variety of settings to meet the health challenges of the 21st century. The Ph.D. will prepare you for positions as faculty researchers at academic institutions, federal and state health departments, research institutes, private sector business and industry, and national and international organizations. Options for focused work in public health are many, although the Ph.D. offered at UConn is particularly strong in three areas:
Social and Behavioral Health Sciences: Explores these influences on individual and community health, focusing on empirical and applied research methods to identify and measure health problems and to design and evaluate interventions for improving health outcomes.
Occupational and Environmental Health Sciences: Offers students grounding in theory and methodology as well as specialized instruction that builds knowledge of the broad range of occupational and environmental exposures and their influences on health, illness and injury, and interventions to improve these outcomes.
Chronic Disease Epidemiology: Provides faculty expertise in cancer epidemiology and prognosis, public health genetics, and psychiatric epidemiology.
Doctoral education occurs through both required and elective coursework along with research undertaken under the auspices of your major advisor and advisory committee. We are a 60-credit program, consisting of 45 (15 courses) in coursework and 15 in dissertation research. You, your major advisor, and your committee together develop the plan-of-study that will reflect your interests and abilities to engage in public health scholarship.
The Ph.D. in Public Health is a full-time program, requiring students to register for at least three courses (9 credits) each semester to maintain their full-time status (unless the student has a 20-hour per week graduate assistantship, in which case two courses or six credits per semester qualifies as full-time status). This is a substantial commitment of time and effort; one that's necessary for timely completion of your degree.  Since the opening of the program in 2007, over 20 students have been awarded the Ph.D. with most obtaining appointments at academic and other research-related institutions.
Applications are first reviewed by the University of Connecticut Graduate School for completeness, and forwarded to the Program in Applied Public Health Sciences.