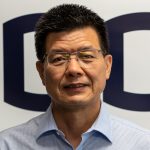 Wenqi Gan, MD, PhD
Associate Professor
wgan@uchc.edu
Epidemiology and Biostatistics
Dr. Gan is an Epidemiologist and Biostatistician, with over 20 years of experiences in planning and conducting epidemiologic studies and statistical analyses. He is experienced in study design and implementation, data collection and management, statistical analyses and interpretation, automatic data processing and data visualization, and report writing and dissemination. Dr. Gan will play a key role at the UConn School of Medicine in providing assistance and support in research methodology including study designs, statistical methods, and data analytics. Meanwhile, Dr. Gan is interested and has expertise in epidemiologic research about cardiovascular diseases, respiratory diseases, environmental health, occupational health, substance use disorders, and health disparities and disadvantaged populations.
Gan WQ, Buxton JA, Palis H, Janjua NZ, Scheuermeyer FX, Xavier CG, Zhao B, Desai R, Slaunwhite AK. Drug overdose and the risk of cardiovascular diseases: a nested case-control study. Clinical Research in Cardiology (online ahead of print).