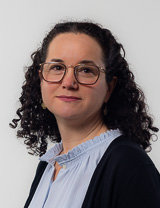 Jennifer Cavallari, Sc.D.
Associate Professor
cavallari@uchc.edu
Occupational & Environmental Epidemiology
Dr. Cavallari's research and practice is in support of worker well-being. She is a core member of the Center for the Promotion of Health in the New England Workplace (CPH-NEW), a National Institute for Occupational Safety and Health (NIOSH) Total Worker Health® Center of Excellence. She leads the Total Teacher Health project which address teacher mental well-being through a prospective cohort study examining factors influencing teacher stress and an intervention study that adapts, implements, and evaluates CPH-NEW's Healthy Workplace Participatory Program to address educator mental well-being. Additional research projects include the WorkTime project that examines the influence of work schedules on worker and family well-being, and the HearWell project that uses a Total Worker Health approach to hearing conservation. Dr. Cavallari is also very involved in Total Worker Health education and has designed and produced e-learning activities for professionals and students. In addition to research, she teaches in Occupational & Environmental Epidemiology and Environmental & Occupational Health Policy within the UConn Masters of Public Health program and within the Occupational Health Psychology Proseminar within UConn's Department of Psychology.
Cavallari JM, Suleiman AO, Garza JL, Namazi S, Dugan AG, Henning RA, Punnett L. Evaluation of the HearWell Pilot Program: A participatory Total Worker Health® approach to hearing conservation. Int J of Env Res and Pub Health. Int. J. Environ. Res. Public Health 2021, 18, 9529. https://doi.org/10.3390/ijerph18189529
---
Cavallari JM, Garza JL, Ferguson JM, Laguerre RA, Decker RE, Suleiman AO, Dugan AG. Working Time Characteristics and Mental Health among Corrections and Transportation Workers. Ann Work Expo Health. 2021 Feb 19:wxaa131. doi: 10.1093/annweh/wxaa131
---
Cavallari JM, Garza JG, DiFrancesco J, Hannrahan J, Dugan AG, Walker ED. Development of a noise hazard scheme for road maintainers performing brush cutting. Am J Ind Med. 2020 May;63(5):429-434. doi: 10.1002/ajim.23091. PMCID: PMC7124968