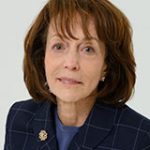 Audrey Chapman, Ph.D., M.Div., S.T.M.
Professor
achapman@uchc.edu
Humanities and bioethics
I teach a series of courses, three regularly: Public Health Ethics, Health and Human Rights, Reproductive Ethics and Rights and two intermittently: Comparative Health Systems and Comparing Countries' Responses to the Pandemic. I chair the Department's Curriculum Committee and the UConn Stem Cell Research Oversight Committee and I serve on a variety of committee's including the John Dempsey Hospital Ethics Committee, the UConn Health Merit Appeals Committee, and several Human Rights Institute's committees located at Storrs. My current research is focused on the impact of the pandemic on vulnerable communities and I have published on a variety of health, stem cells, and health and human rights topics.
Audrey R. Chapman and A. Karim Ahmed, "Climate Justice, Human Rights, and the Case for Reparations," Health and Human Rights Journal, 23 (2), December 2021: 81-95.