The UConn Health Huntington's Disease Program is participating in a study called Enroll-HD: A Prospective Registry Study in a Global Huntington's Disease Cohort (Enroll-HD). Enroll-HD is a worldwide Huntington's disease (HD) observational, multi-center study.
The primary objective of Enroll-HD is to improve the understanding of the disease mechanisms of HD by collecting data from families affected by HD in an effort to improve our understanding and treatment of the disease.
There are no potential therapies or invasive procedures in this study.
Any member of a family affected by HD can take part. This includes:
Individuals who know they carry the expanded gene, whether they show signs and symptoms of the disease.
Individuals who are at risk of developing the disease (but have not undergone genetic testing).
Individuals who have a family history of HD but know they do not carry the expanded gene.
Spouses/partners (not blood related) of family members with HD.
Children under the age of 18 with clinically diagnosed juvenile HD may be included in this study with the consent of a parent or legal guardian.
Enroll HD is an open ended study, which means it has no definite end time, but you can leave at any time you choose. You will attend one study visit each year.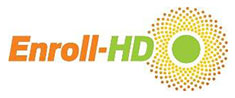 For more information about this study, contact:
Robin Zingales-Browne, M.S.N., APRN
Study Coordinator
Huntington's Disease Program
UConn Health
263 Farmington Avenue
Farmington, CT 06030
Phone: 860-679-4441
Fax: 860-679-1945