Study is closed.
Carolyn Drazinic, M.D., Ph.D., medical director of the UConn Health Huntington's Disease Program along with the Huntington Study Group (HSG), is conducting a Phase III clinical trial to study how creatine monohydrate affects people18 years of age and older who have early signs of Huntington's disease (HD). CREST-E is designed to look at whether high doses of a pure-grade creatine monohydrate can slow down the decline that occurs in HD patients, by comparing it to a placebo (looks like study drug but has no active ingredient). CREST-E is designed to evaluate how safe creatine is and how the body will react to creatine. It will also look at how creatine affects the body.
Even though many people take creatine at lower doses, the high-doses being studied here have not been used before, so monitoring its safety at study visits is an important part of this study.
Over 50 research centers around the world will enroll up to 650 subjects. This study is sponsored by the National Institutes of Health and the Center for Complementary and Alternative Medicine.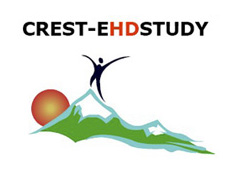 For more information, visit www.clinicaltrials.gov (NCT00712426) or call Bonnie L. Hennig, M.S.W., LCSW, QCSW, DCSW, at 860-679-4441.