We are committed to providing the best and most innovative surgical care to our patients.
Whether you or a loved one needs surgery, it's important to choose the best surgeon. At UConn Health, patients have access to experienced surgeons with various areas of expertise that use leading surgical technology, including robotic surgery and minimally invasive procedures. Visit Surgery site.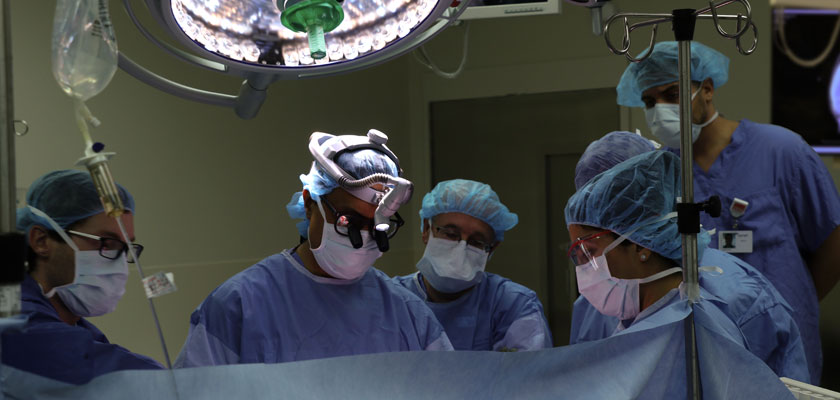 "We are incredibly excited for our new state-of-the-art operating rooms. Our new technology will allow us to continue to fulfill our mission of improving the health of the citizens of Connecticut through the innovative integration of research, education, and clinical care."
— Ellen Benson, RN, CNOR, operating room nurse manager at UConn Health
With our move to the new University Tower in 2016, UConn John Dempsey Hospital is the home of an impressive, state-of-the-art operating suites. Included are spacious, specialty rooms for general surgery, spine, total joint procedures, neurosurgery, and heart surgery. A high-tech hybrid OR boasts built-in advanced imaging capabilities for surgeons performing minimally invasive procedures, especially interventional vascular procedures. The suites feature individual temperature controls and are outfitted with Black Diamond Video, which allows videoconferencing during a case, such as between surgeon and pathologist, or to pull up radiology images during a surgery. While you will never see them, your surgical team has the very best facilities in which to deliver your care.
From Our Department Chair
The Department of Surgery is dedicated and committed to providing the best and most innovative surgical care in a "patient first" environment, performing cutting edge basic science and translational research, and serving as the premier educational environment for the training of tomorrow's surgeons.
The Department of Surgery comprises nine divisions: Cardiothoracic Surgery, General Surgery, Head and Neck Surgery, Neurosurgery, Ophthalmology, Plastic Surgery, Surgical Oncology, Urology, and Vascular Surgery. Each division is an epitome of modern clinical care.
In addition to our commitment to provide the finest in patient care, we place a major emphasis on science and scholarship. Research programs accompany all of our clinical activities, and trainees in our residency program are encouraged to take time off to participate in basic and translational research. The Department has 10,000 square feet of dedicated research space in which to conduct scientific studies.
Currently the Department of Surgery has 40 full time faculty members participating in teaching, research and clinical activities at UConn and its major affiliated hospitals, more than 100 voluntary faculty, and fully accredited residencies in general surgery, urology, otolaryngology and vascular surgery. More than 80 medical students are trained annually in our didactic courses and on clinical rotations.
We hope you find the information on this website helpful and invite you to learn more about our outstanding programs.
David W. McFadden, M.D.
Chair, Department of Surgery
Surgeon-in-Chief