We are committed to providing the best and most innovative surgical care to our patients.
Whether you or a loved one needs surgery, it's important to choose the best surgeon. At UConn Health, patients have access to experienced surgeons with various areas of expertise that use leading surgical technology, including robotic surgery and minimally invasive procedures. Visit Surgery site.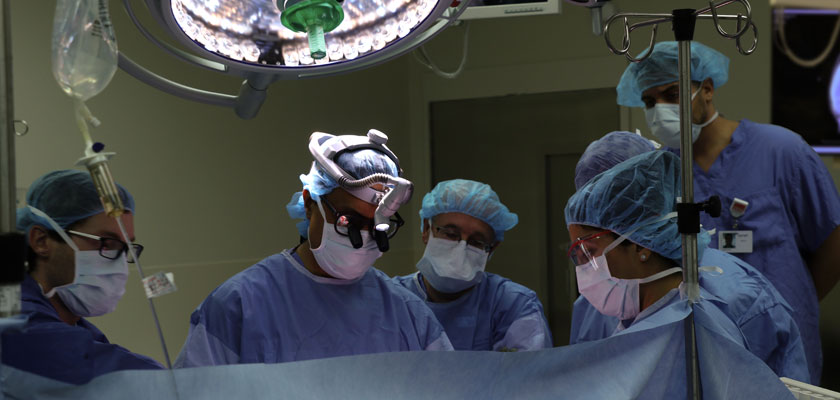 "We are incredibly excited for our new state-of-the-art operating rooms. Our new technology will allow us to continue to fulfill our mission of improving the health of the citizens of Connecticut through the innovative integration of research, education, and clinical care."
— Ellen Benson, RN, CNOR, operating room nurse manager at UConn Health
With our move to the new University Tower in 2016, UConn John Dempsey Hospital is the home of an impressive, state-of-the-art operating suites. Included are spacious, specialty rooms for general surgery, spine, total joint procedures, neurosurgery, and heart surgery. A high-tech hybrid OR boasts built-in advanced imaging capabilities for surgeons performing minimally invasive procedures, especially interventional vascular procedures. The suites feature individual temperature controls and are outfitted with Black Diamond Video, which allows videoconferencing during a case, such as between surgeon and pathologist, or to pull up radiology images during a surgery. While you will never see them, your surgical team has the very best facilities in which to deliver your care.
Take an Inpatient Surgery Tour
If you're having surgery at UConn John Dempsey Hospital and will be staying overnight, watch this video for a patient perspective on what you can expect during your stay with us.