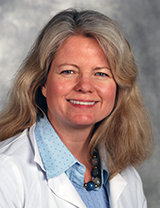 Linda York, M.S., R.D., earned a bachelor's degree from Simmons College in Boston and a master's degree from New York University, both degrees in nutrition.
She works with hospitalized and ambulatory patients and also provides individual and group education and counseling. Ms. York's areas of expertise include nutrition support for intensive care and oncology patients and counseling on heart health and weight management.
She is a firm believer that a proper diet coupled with exercise can help prevent a variety of today's medical problems. Ms. York serves as a UConn Health spokesperson for local print and television media.