Nightingale Awards
Year after year, select nurses from UConn John Dempsey Hospital receive the Nightingale Awards for Excellence in Nursing, the largest nursing recognition program in the state.
NICHE
UConn John Dempsey Hospital is a proud member of NICHE (Nurses Improving Care for Healthsystem Elders), a nurse-driven program to improve nursing care for hospitalized patients age 65 and older through evidence-based clinical practice. As a member of NICHE, the nurses at UConn Health have access to clinical protocols and online educational programs and strategies to promote best practice care for older patients.
Individual Awards and Achievements
UConn Health is home to many nursing professionals who have been recognized for a variety of achievements in research, patient safety, patient care, and other areas.
In 2023, as a result of their hard work and dedication, our nurses achieved:
Nightingale Awards
Professional Certifications
Dempsey Award
Herrick Drake Scholarship
Academic Honors and Awards
Nursing Research Fellowships
Published Research
Poster Presentations at National Professional Conferences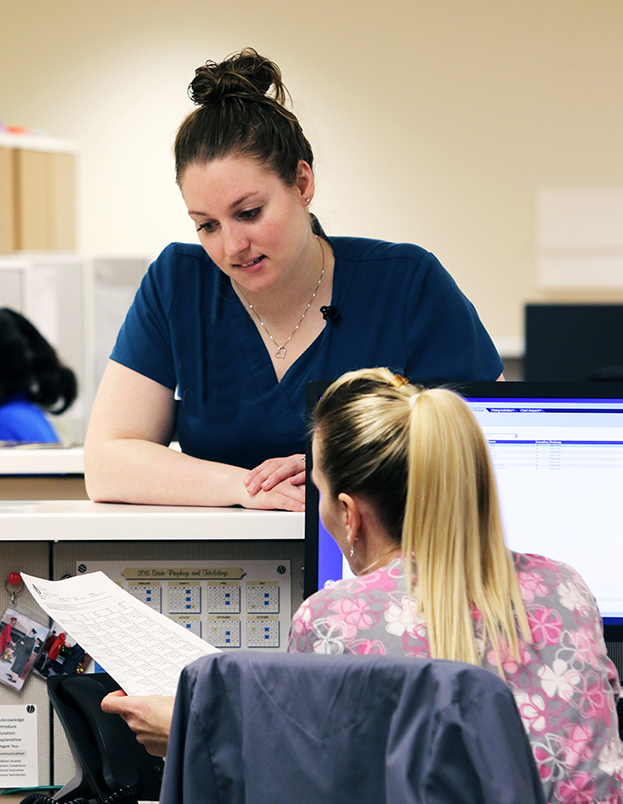 Nursing Education Goals
UConn Health has adopted the goal presented by the Institute of Medicine (IOM) for 80% of our nursing staff to have a Bachelor of Science in Nursing (BSN) or higher by the year 2020. In 2010, IOM released The Future of Nursing: Leading Change, Advancing Health where it explained the reasons for its push for more BSNs in health care.
Extensive research shows nurses with a BSN generally have better patient outcomes and increased skills in practically all facets of their professional lives. This goal also aligns with a requirement of achieving Magnet status, something UConn Health is already pursuing. We are committed to achieving this goal, and we are proud of the number of nurses we currently have on staff who have a BSN or higher degree.
UConn John Dempsey Hospital – Percent of RNs with BSN Degree or Higher