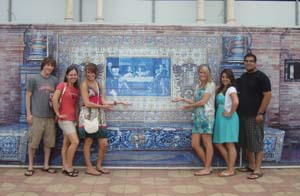 There will be many opportunities for socializing with Spanish students as the University of Salamanca will be in session during the program. Study abroad students will interact with the Ph.D. students in the Institute for Neuroscience who will act as hosts and guides. In addition, there are 15,000 other study abroad students in Salamanca every summer.
Salamanca is one of the most exciting cities in Spain! The Plaza Mayor is perhaps the most beautiful in the country and is the site of concerts, public events, and round-the-clock social gatherings. Students can travel easily from Salamanca to the walled city of Avila (home of the Spanish Inquisition), the museums of Madrid, and the narrow streets of Segovia and Toledo. Portugal is approximately 100 km away.
For 2022
May 21-22 - (Saturday, Sunday) Arrive in Salamanca; Saturday arrivals will travel to Salamanca together by bus
May 23 - (Monday) - Post-arrival meeting and the first day of classes
June 1-5 - Trip to Prague. Short course on neuroscience methods, June 2-3
June 23 - (Thursday) - Last day of classes (final exams); farewell party
June 26 - (Sunday) Latest departure from dormitory
Classes are Monday through Thursday of each week.