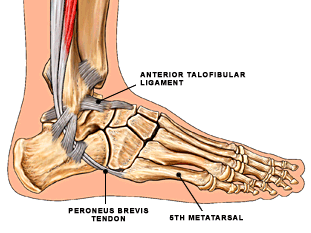 Often taken for granted, feet and ankles are subjected to a rigorous workout everyday. They take all of the demands the body and legs place on them. The feet and ankles are the most frequently injured areas of the body. Injuries may result from accidents or from conditions which often indicate a more serious medical problem, such as arthritis or diabetes.
The Foot and Ankle Program of the UConn Musculoskeletal Institute provides comprehensive diagnostic, surgical and rehabilitative services for adult foot and ankle conditions, from the common to the most complex. Extensively trained medical professionals work together to diagnose and treat the specific needs of each patient.
Orthopaedic surgeons and podiatrists work with a wide range of medical professionals including endocrinologists, neurologists, infectious disease specialists, vascular surgeons and plastic surgeons. The staff includes licensed physical therapists who work closely with the physicians. Certified orthotists are available if custom orthotics or braces are required.
Our Services
The Foot and Ankle Program is able to care for all problems from routine foot care to complex reconstructions that include:
Foot and Ankle Trauma
We are equipped to care for patients with both acute traumatic injuries and post-traumatic deformities. This includes sprains, tendon ruptures, fractures, and dislocations. We also specialize in the care of post-traumatic reconstructions for fractures that have not healed or have healed in an abnormal position. We have extensive expertise in the care of post-traumatic infections as well.
Sports Related Injuries
We have the capability to diagnose and treat all aspects of sports related foot and ankle injuries in athletes and dancers. This includes the fully-trained support staff of our Sports Medicine program.
Common Foot Problems
We are able to treat a wide variety of common foot problems including bunions, hammertoes, corns, toe nail deformities and both high arched and flat feet. We use proven techniques to successfully treat chronic heel pain as well.
Arthritis of the Foot and Ankle
We have extensive experience in treating all aspects of foot and ankle arthritis. This includes osteoarthritis, post-traumatic arthritis, and inflammatory arthritis, including rheumatoid arthritis. Treatment of these conditions ranges from conservative treatment with arch supports and medications to complex reconstructions.
Neuromuscular Disorders
We have specialized training in the treatment of a wide variety of neurologic and neuromuscular conditions. These include Morton's neuroma, tarsal tunnel syndrome, Charcot-Marie tooth disease, and post-stroke deformities.
Foot Care for People with Diabetes
We have specialized training in all aspects of foot care for people with diabetes. This involves a multidisciplinary approach with consultation available from specialists in endocrinology, vascular, and plastic surgery.
Conditions and Treatments